True to His Word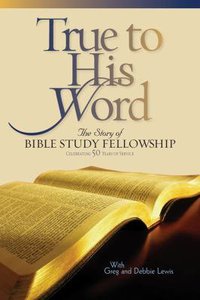 This gripping history of Bible Study Fellowship (BSF) begins at a dead end--when an unknown, single, middle-aged, British-woman Missionary, was forced to flee China when Communists moved in. Grieving the heart-breaking conclusion of what she'd believed was her life-long calling, Wetherell Johnson's journey home to England collided with a Divine appointment when five California women asked her to teach them more about the Bible. She agreed and that Bible study with five women grew into an organization which exploded into a movement that now ministers to hundreds of thousands of students every week and has impacted the lives of millions of people in countries around the world including the Republic of China. Told through a big family photo album pasted together and held in place with a fascinating narrative thread, God's faithfulness through His plans, will touch your heart and renew your passion for His Word.

- Publisher
You May Also Be Interested In
About "True to His Word"
This gripping history of Bible Study Fellowship (BSF) begins at a dead end--when an unknown, single, middle-aged, British-woman Missionary, was forced to flee China when Communists moved in. Grieving the heart-breaking conclusion of what she'd believed was her life-long calling, Wetherell Johnson's journey home to England collided with a Divine appointment when five California women asked her to teach them more about the Bible. She agreed and that Bible study with five women grew into an organization which exploded into a movement that now ministers to hundreds of thousands of students every week and has impacted the lives of millions of people in countries around the world including the Republic of China. Told through a big family photo album pasted together and held in place with a fascinating narrative thread, God's faithfulness through His plans, will touch your heart and renew your passion for His Word.
- Publisher


Meet the Author
Gregg Lewis
Gregg Lewis is an award winning author or coauthor of more than fifty books, including Take the Risk and The Big Picture with Dr. Ben Carson, Tom Landry: An Autobiography, Forgiving the Dead Man Walking with Debbie Morris, Jesus M.D., and Safe at Home. SPANISH BIO: Gregg Lewis es autor y coautor galardonado de mas de cincuenta libros, incluyendo Arriesgate y Vision Global con Ben Carson, Tom Landry: Una autobiografia, Jesus M.D., y A salvo en casa. el y su esposa, Deborah, tienen cinco hijos y residen en Rome, Georgia.