Truth Be Told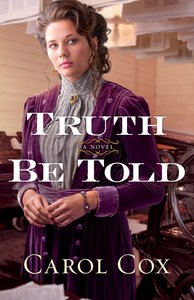 Sometimes the truth can be dangerous...



When Amelia Wagner takes over her father's newspaper in 1893 Granite Springs, Arizona, she vows to carry on the paper's commitment to reporting only the truth. But Amelia soon learns that even the truth can have serious consequences. Her father's revealing articles about the Great Western Investment Company have caught the attention of the wrong people, and pressure mounts for Amelia to retract her father's statements.

Determined to find out the real story, Amelia begins her own investigation. She's joined by Benjamin Stone, a Great Western employee who's been assigned to keep tabs on her for the good of the company, a man Amelia finds both perplexing and intriguing.

What they uncover stuns them both--and has far-reaching implications for not only Ben and Amelia but all of Granite Springs. Can they reveal the truth before the enemy finds a way to silence them for good?

- Publisher
You May Also Be Interested In
About "Truth Be Told"
Sometimes the truth can be dangerous...



When Amelia Wagner takes over her father's newspaper in 1893 Granite Springs, Arizona, she vows to carry on the paper's commitment to reporting only the truth. But Amelia soon learns that even the truth can have serious consequences. Her father's revealing articles about the Great Western Investment Company have caught the attention of the wrong people, and pressure mounts for Amelia to retract her father's statements.

Determined to find out the real story, Amelia begins her own investigation. She's joined by Benjamin Stone, a Great Western employee who's been assigned to keep tabs on her for the good of the company, a man Amelia finds both perplexing and intriguing.

What they uncover stuns them both--and has far-reaching implications for not only Ben and Amelia but all of Granite Springs. Can they reveal the truth before the enemy finds a way to silence them for good?
- Publisher


Meet the Author
Carol Cox
CAROL COX is an award winning author, a native of Arizona, whose time is devoted to being a pastor's wife, mom to her grown son, and a home-school teacher to her daughter, church pianist, and youth worker. She loves anything that she can do with her family: reading, travelling, historical studies, and outdoor excursions. She is also open to new pursuits on her own, including genealogy research, crafts, and the local historical society. She plans to write more historical inspirational romance, in which her goals are to encourage Christian readers with entertaining and uplifting stories and to pique the interests of non-Christians who might read her novels. Some of her works include Spring's Memory, Land Of Promise, Arizona Brides, Ticket To Tomorrow and To Catch A Thief.