Turquoise (#04 in Shades Of Style Series)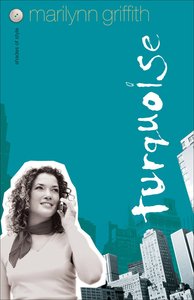 Chenille Rizzo loves God. It's people she has a problem with sometimes, especially after the death of her beloved husband. People such as her star account--a demanding bride long on money and short on tact--make Chenille feel more blue than she'd like to admit. The groom, a homegrown pediatrician, is just the opposite. He has wise eyes, a love for babies, and a comforting voice--a tenor, like Chenille's late husband. And he's just as quiet. Maddeningly so. Does he really love the spoiled diva Chenille is trimming a wedding dress for? Or does his gaze hold the longing she both hopes for ... and fears? Will she risk losing her business for a chance at happiness with the gentle doctor?
Fans of the Shades of Style series will love this satisfying conclusion.

- Publisher
You May Also Be Interested In
About "Turquoise (#04 in Shades Of Style Series)"
Chenille Rizzo loves God. It's people she has a problem with sometimes, especially after the death of her beloved husband. People such as her star account--a demanding bride long on money and short on tact--make Chenille feel more blue than she'd like to admit. The groom, a homegrown pediatrician, is just the opposite. He has wise eyes, a love for babies, and a comforting voice--a tenor, like Chenille's late husband. And he's just as quiet. Maddeningly so. Does he really love the spoiled diva Chenille is trimming a wedding dress for? Or does his gaze hold the longing she both hopes for ... and fears? Will she risk losing her business for a chance at happiness with the gentle doctor?
Fans of the Shades of Style series will love this satisfying conclusion.
- Publisher


Meet the Author
Marilynn Griffith
Marilynn Griffith is a freelance writer and conference speaker whose online columns and blogs reach thousands of women each year. She is the author of the Shades of Style series, and Rythmns of Grace and Songs of Deliverance. Marilynn lives in Tallahassee, Florida, with her husband and seven children.