Twelve Challenges Churches Face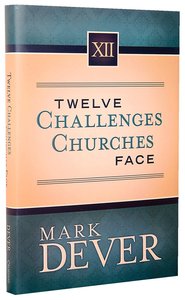 The church Paul had seen established in Corinth in the first century was young and full of lifeand just as full of problems. No single church in the New Testament had so many and such a diversity of problems. The church was plagued by partisanship, pride, immorality, false teachers, super-spiritualityand the list goes on.

In this book, Mark Dever, long-time pastor and leading authority on the subject of church health, tackles twelve challenges that confronted the church in first-century Corinthand churches today, including: division, asceticism, disobedience, legalism, autonomy, thoughtlessness, selfishness, and decline. As he presents each challenge, Dever provides ways for individuals and churches to respond to these challenges biblically. He writes for both church leaders and laymen, insisting that the health of the local church should be the concern of every believer

- Publisher Division. Disobedience. Legalism. These are just a few of the many problems that plague churches today, just as they plagued the Corinthian church in the first century. That's why, out of his great love and concern for this young church, Paul addressed these issues boldly, offering the Christians at Corinth much-needed admonition, instruction, and encouragement. If you have ever witnessed a church split or a denominational dispute, you know firsthand that the same sort of struggles impact our churches today. In Twelve Challenges Churches Face, pastor Mark Dever--a leading authority on the subject of church health--tackles this and eleven other major challenges we must fight to overcome. These twelve challenges, if left unchecked, can cripple a church and stifle its ministry to a needy world. But if individuals and churches immerse themselves in God's Word and heed Paul's instruction, God will heal even the sickest church and transform it into a powerful vehicle for proclaiming the gospel of Christ. "As a leading voice for reformation in the twenty-first century, Mark Dever calls evangelicals to love the church as much as we love Jesus. In this exposition of 1 Corinthians he gives clear pastoral guidance for the difficult problems addressed in a difficult book of the Bible, confronting not only the controversial issues that always face the church, but also the spiritual dangers that lurk behind them." Philip Graham Ryken, Senior Minister, Tenth Presbyterian Church, Philadelphia "Twelve Challenges Churches Face is a careful exposition of 1 Corinthians. It is both theological and practical in its goal to foster healthy churches. You will be edified and encouraged by PastorDever's treatment of important issues that confront the church on a daily basis." Daniel L. Akin, President, Southeastern Baptist Theological Seminary

- Publisher
You May Also Be Interested In
About "Twelve Challenges Churches Face"
The church Paul had seen established in Corinth in the first century was young and full of lifeand just as full of problems. No single church in the New Testament had so many and such a diversity of problems. The church was plagued by partisanship, pride, immorality, false teachers, super-spiritualityand the list goes on.

In this book, Mark Dever, long-time pastor and leading authority on the subject of church health, tackles twelve challenges that confronted the church in first-century Corinthand churches today, including: division, asceticism, disobedience, legalism, autonomy, thoughtlessness, selfishness, and decline. As he presents each challenge, Dever provides ways for individuals and churches to respond to these challenges biblically. He writes for both church leaders and laymen, insisting that the health of the local church should be the concern of every believer
- Publisher

Division. Disobedience. Legalism. These are just a few of the many problems that plague churches today, just as they plagued the Corinthian church in the first century. That's why, out of his great love and concern for this young church, Paul addressed these issues boldly, offering the Christians at Corinth much-needed admonition, instruction, and encouragement. If you have ever witnessed a church split or a denominational dispute, you know firsthand that the same sort of struggles impact our churches today. In Twelve Challenges Churches Face, pastor Mark Dever--a leading authority on the subject of church health--tackles this and eleven other major challenges we must fight to overcome. These twelve challenges, if left unchecked, can cripple a church and stifle its ministry to a needy world. But if individuals and churches immerse themselves in God's Word and heed Paul's instruction, God will heal even the sickest church and transform it into a powerful vehicle for proclaiming the gospel of Christ. "As a leading voice for reformation in the twenty-first century, Mark Dever calls evangelicals to love the church as much as we love Jesus. In this exposition of 1 Corinthians he gives clear pastoral guidance for the difficult problems addressed in a difficult book of the Bible, confronting not only the controversial issues that always face the church, but also the spiritual dangers that lurk behind them." Philip Graham Ryken, Senior Minister, Tenth Presbyterian Church, Philadelphia "Twelve Challenges Churches Face is a careful exposition of 1 Corinthians. It is both theological and practical in its goal to foster healthy churches. You will be edified and encouraged by PastorDever's treatment of important issues that confront the church on a daily basis." Daniel L. Akin, President, Southeastern Baptist Theological Seminary
- Publisher


Meet the Author
Mark Dever
Mark Dever (Ph.D., University of Cambridge) is Senior Pastor of Capitol Hill Baptist Church in Washington, D.C. and Executive Director for 9 Marks Ministries. Dr. Dever has contributed to several books on church health and church leadership, and is a visiting professor at both Beeson Divinity School, The Southern Baptist Theological Seminary and Trinity Evangelical Divinity School.
He has written What Is A Healthy Church?; 9 Marks Of A Healthy Church (Expanded 2004), The Deliberate Church, The Message of the Old Testament: Promises made, The Gospel and Personal Evangelism, The Message of the New Testament: Promises Kept, and Twelve Challenges Churches Face.
Koorong -Editorial Review.