Twenty Questions That Shaped World Christian History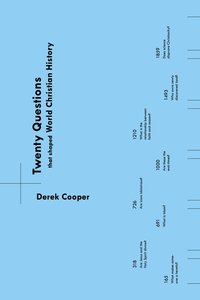 The questions of Christianity are perennial. For example: How are Judaism and Christianity related? Are Jesus and the Holy Spirit God? Is the end of the world imminent? How should we relate faith and reason? In this innovative work, Derek Cooper tells the story of Christian history by presenting the twenty questions (one for each century!) that shaped the Christian church throughout the world. The result is a book that narrates the exciting history of Christianity from a global perspective by means of simple questions and concerns that still face the church today. Each century of world Christian history is explored by means of one question that attempts to encapsulate the central themes and concerns of that century for Christianity. Coverage of each century is sensitive to world regions and theological and cultural concerns that are often overlooked and neglected in books that are oriented in a more Western way.

- Publisher
You May Also Be Interested In
About "Twenty Questions That Shaped World Christian History"
The questions of Christianity are perennial. For example: How are Judaism and Christianity related? Are Jesus and the Holy Spirit God? Is the end of the world imminent? How should we relate faith and reason? In this innovative work, Derek Cooper tells the story of Christian history by presenting the twenty questions (one for each century!) that shaped the Christian church throughout the world. The result is a book that narrates the exciting history of Christianity from a global perspective by means of simple questions and concerns that still face the church today. Each century of world Christian history is explored by means of one question that attempts to encapsulate the central themes and concerns of that century for Christianity. Coverage of each century is sensitive to world regions and theological and cultural concerns that are often overlooked and neglected in books that are oriented in a more Western way.
- Publisher


Meet the Author
Derek Cooper
Derek Cooper (MDiv, Biblical Theological Seminary) is currently pursuing a PhD at Lutheran Theological Seminary and is an adjunct professor at Esperanza College. Due to work, family, and program requirements, Derek has attended classes at six different seminaries. He lives in Doylestown, Pennsylvania, with his wife.
Table Of Contents
What's In A Question?; 1. What's The Relationship Between Christianity And Judaism?; 2. What Makes Someone A Heretic?; 3. What Happens To Christians Who Backslide?; 4. Are Jesus And The Holy Spirit Divine?; 5. How Many Natures Does Christ Have?; 6. What Does It Mean To Be Holy?; 7. What's Islam?; 8. Are Icons Idolatrous?; 9. Who Has Authority Over Newly Christianized Nations?; 10. Are These The End Times?; 11. Should Christians Fight Muslims Over The Holy Land?; 12. Can Priests Marry?; 13. What's The Relationship Between Faith And Reason?; 14. How Should We Respond To Mass Death?; 15. Who Owns Newly Discovered Land?; 16. Can Christians Own Slaves?; 17. Is Confucianism Compatible With Christianity?; 18. Is Conversion Necessary To Be A Christian?; 19. Does Science Disprove Christianity?; 20. How Does Christianity Look Worldwide?