Twisted Scriptures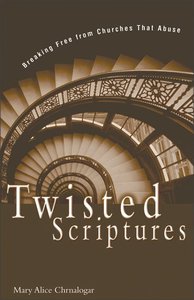 For Someone Else If You're Concerned.

For Yourself If You've Ever Wondered.

You joined your church because of its intensity for God. Like no other place, it's helped you discover the meaning of obedience. Of teachableness. Of death to self. If there's one problem, it's the confusion that sometimes comes from your own carnal thinking. But God has given you leaders who can lovingly correct a doubting, independent spirit and help you choose God's best for your life. How can you go wrong with a church like that? Easily. What you've just read actually fits the profile of many abusive churches. Twisted Scriptures reveals in depth how the Bible can be distorted in ways that rob you of the liberty Jesus died to give you. You might be shocked at what you discover.

This book uncovers the subtle but powerful techniques by which, in the name of truth, controlling leaders manipulate and intimidate countless believers. It also supplies tools for overcoming persuasive, deceptive teachings and practices.

Thousands of Christians have already moved from struggle to true freedom and hope through Twisted Scriptures. If you truly want to grow in everything God made you to be, you owe it to yourself to read this book.

- Publisher 17 Chapters

- Publisher
You May Also Be Interested In
About "Twisted Scriptures"
For Someone Else If You're Concerned.

For Yourself If You've Ever Wondered.

You joined your church because of its intensity for God. Like no other place, it's helped you discover the meaning of obedience. Of teachableness. Of death to self. If there's one problem, it's the confusion that sometimes comes from your own carnal thinking. But God has given you leaders who can lovingly correct a doubting, independent spirit and help you choose God's best for your life. How can you go wrong with a church like that? Easily. What you've just read actually fits the profile of many abusive churches. Twisted Scriptures reveals in depth how the Bible can be distorted in ways that rob you of the liberty Jesus died to give you. You might be shocked at what you discover.

This book uncovers the subtle but powerful techniques by which, in the name of truth, controlling leaders manipulate and intimidate countless believers. It also supplies tools for overcoming persuasive, deceptive teachings and practices.

Thousands of Christians have already moved from struggle to true freedom and hope through Twisted Scriptures. If you truly want to grow in everything God made you to be, you owe it to yourself to read this book.
- Publisher

17 Chapters
- Publisher


Meet the Author
Mary Chrnalogar
Maty Alice Chrnalogar is a Intervention Consultant and author regarding radical, and often unsafe groups, helps free your loved ones from suppressive mind controlling cults,and churches.Known as "The Veteran" and "Cult Buster", Chrnalogar has been involved in hundreds of interventions, risking imprisonment in an effort to help the victims of destructive groups. In fact, Mary Alice Chrnalogar is well known to cases across Canada, United States, Europe, Africa, Australia and the Middle East concerning destructive groups and their influence. She is the author of Twisted Scriptures which has been also translated into Spanish.
Table Of Contents
Table Of Contents

Introduction

Preface

Chapters

1.the Discipleship Game

2.the Discipleship Disaster

3.authority Unlimited

4.beyond Accountability

5.the Language Of Enslavement

6.whose Will Is It?

7.control In Black And White

8.vicious Information Control

9.truth Or Consequences

10.confession Confusion

11.walling Off The World

12.what God And The Discipler Have Joined Together

13.this Can't Be Mind Control, Can It?

14.collision With Leadership

15.the New Inquisition

16.boxes Within Boxes

17.the Way To Freedom

Epilogue:leader Of Heaven's Gate

Undermined Free Will

Appendix 1:references And Resources

Appendix 2:shepherding/discipleship/

Accountability Groups: A Brief History

Appendix 3:

A Summary Of Abuses

Endnotes

Index

About The Author