Two Roads Home (#02 in A Chicory Inn Novel Series)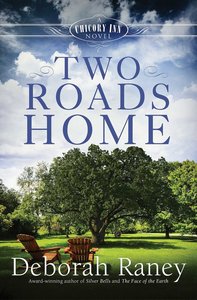 Minor-but-nagging setbacks continue to sour Grant and Audrey Whitman's initiation into the world of innkeeping, but larger challenges brew when an innocent flirtation leads to big trouble for the Whitmans' son-in-law, Jesse. Jesse Pennington's friendly, outgoing personality has always served him well, especially in a career that has earned him and his wife Corinne a very comfortable lifestyle. But Corinne and Jesse are both restless--and for similar reasons, if only they could share those with each other. Instead, too many business trips and trumped-up charges of harassment from a disgruntled coworker threaten their marriage and possibly put their three precious daughters at risk. With their life in disarray, God is tugging at their hearts to pursue other dreams. Can Corinne and Jesse pick up the pieces of what was once a wonderful life before it all crumbles beneath them?

- Publisher
You May Also Be Interested In
About "Two Roads Home (#02 in A Chicory Inn Novel Series)"
Minor-but-nagging setbacks continue to sour Grant and Audrey Whitman's initiation into the world of innkeeping, but larger challenges brew when an innocent flirtation leads to big trouble for the Whitmans' son-in-law, Jesse. Jesse Pennington's friendly, outgoing personality has always served him well, especially in a career that has earned him and his wife Corinne a very comfortable lifestyle. But Corinne and Jesse are both restless--and for similar reasons, if only they could share those with each other. Instead, too many business trips and trumped-up charges of harassment from a disgruntled coworker threaten their marriage and possibly put their three precious daughters at risk. With their life in disarray, God is tugging at their hearts to pursue other dreams. Can Corinne and Jesse pick up the pieces of what was once a wonderful life before it all crumbles beneath them?
- Publisher


Meet the Author
Deborah Raney
Deborah Raney's first novel, "A Vow to Cherish", was awarded a ýSilver Angel from Excellence in Media and inspired the acclaimed World Wide ýPictures film of the same title. Since then her books have won the RITA Award, ýthe HOLT Medallion, and the National Readers' Choice Award; Raney was also a ýfinalist for the Christy Award. She and her husband, artist Ken Raney, make ýtheir home in their native Kansas.





Other Titles In The "A Chicory Inn Novel Series" Series View All