Unafraid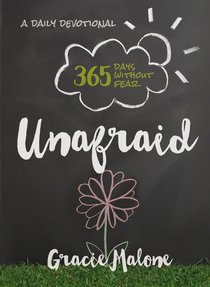 :
A 365-day devotional that will encourage and help readers overcome the fear that consumes, disturbs, and paralyzes them.

To live without fear is one of the most challenging goals you can make in your life. Fear lurks in the deep recesses of the human heart and surprises even the most mature Christian.

There are over 400 instances in the Bible of God telling His children to not be afraid. If repetition of a matter has anything to do with importance, God decided this was a big one. But rather than being a command or admonition, the tone spoken in turn by God, angels, and disciples is compelling and encouraging, like a parent comforting a fearful child.

In UNAFRAID, Gracie Malone brings light, a touch of humor, stories, quotes, prayers, and encouragement to everyone who is fighting to trust in the only One who can take their fear away.

- Publisher
You May Also Be Interested In
About "Unafraid"
:
A 365-day devotional that will encourage and help readers overcome the fear that consumes, disturbs, and paralyzes them.

To live without fear is one of the most challenging goals you can make in your life. Fear lurks in the deep recesses of the human heart and surprises even the most mature Christian.

There are over 400 instances in the Bible of God telling His children to not be afraid. If repetition of a matter has anything to do with importance, God decided this was a big one. But rather than being a command or admonition, the tone spoken in turn by God, angels, and disciples is compelling and encouraging, like a parent comforting a fearful child.

In UNAFRAID, Gracie Malone brings light, a touch of humor, stories, quotes, prayers, and encouragement to everyone who is fighting to trust in the only One who can take their fear away.
- Publisher


Meet the Author
Gracie Malone
Gracie is author of several books dealing with friendship, parenting and grandparenting. She has contributed to several other books and written numerous magazine articles. A popular speaker at women's conferences, retreats and workshops, she is humorous as well as spiritually attuned. Gracie is a gifted Bible study teacher, Precept leader, and group facilitator. Gracie specializes in developing small group ministries and mentoring women. She is a wife, mother of three adult sons, and grandmother to six amazing grandkids.