Undefending Christianity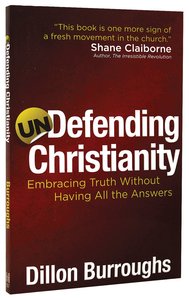 Dillon Burroughs has defended the faith as a writer, speaker, and professor. But when he asked himself how he was helping a homeless guy in his city or a hungry family in Darfur, everything started to unravel. Now, with renewed vision, disarming candor, and deep respect for the church, Burroughs gently leads readers through a reassessment of hot-button topics like these:

- Jesus was a friend of sinners and consumed alcohol. How did that work?
- He also said to love neighbors, sinners, and enemies. Does loving homosexuals fit in there somewhere?
- Why are the odds in America stacked against the success of a traditional marriage?

Burroughs provides a safe place for spiritually minded and culturally savvy people to process their questions and find a more relevant and Christlike faith.

"What is Undefending Christianity? Ultimately, it's a book for anyone who wants to live out their faith rather than leave it. The Apostle Paul noted we are to speak the truth in love (Ephesian 4:15). My conviction is that our beliefs need more action and less reaction; more help and less hate; more compassion and less cruelty. Truth is as important as ever, but people need to see it in our lives, not just read about it. This is the journey of Undefending Christianity."
- Dillon Burroughs, author of Undefending Christianity



- Publisher
You May Also Be Interested In
About "Undefending Christianity"
Dillon Burroughs has defended the faith as a writer, speaker, and professor. But when he asked himself how he was helping a homeless guy in his city or a hungry family in Darfur, everything started to unravel. Now, with renewed vision, disarming candor, and deep respect for the church, Burroughs gently leads readers through a reassessment of hot-button topics like these:

- Jesus was a friend of sinners and consumed alcohol. How did that work?
- He also said to love neighbors, sinners, and enemies. Does loving homosexuals fit in there somewhere?
- Why are the odds in America stacked against the success of a traditional marriage?

Burroughs provides a safe place for spiritually minded and culturally savvy people to process their questions and find a more relevant and Christlike faith.

"What is Undefending Christianity? Ultimately, it's a book for anyone who wants to live out their faith rather than leave it. The Apostle Paul noted we are to speak the truth in love (Ephesian 4:15). My conviction is that our beliefs need more action and less reaction; more help and less hate; more compassion and less cruelty. Truth is as important as ever, but people need to see it in our lives, not just read about it. This is the journey of Undefending Christianity."
- Dillon Burroughs, author of Undefending Christianity


- Publisher


Meet the Author
Dillon Burroughs
Dillon Burroughs is a graduate of Dallas Theological Seminary and author or coauthor of nearly 30 books on issues of faith and culture, including Defending the Faith, What's the Big Deal About Jesus? and Comparing Christianity with World Religions. He has served among at-risk American youth, constructed housing in Mexico's barrios, provided aid relief in Haiti, and was most recently nominated for a CNN Hero award for his efforts to fight human trafficking. Dillon lives in Tennessee with his wife, Deborah, and two children.