Undeniably Yours (#01 in Porter Family Novel Series)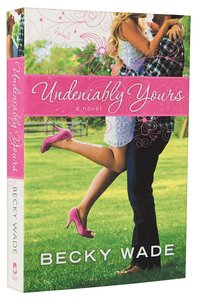 Winsome and Romantic--the Perfect Summer Read!

When Meg Cole's father dies unexpectedly, she becomes the majority shareholder of his oil company and the single inheritor of his fortune. Though Meg is soft-spoken and tenderhearted--more interested in art than in oil--she's forced to return home to Texas and to Whispering Creek Ranch to take up the reins of her father's empire.

The last thing she has the patience or the sanity to deal with? Her father's thoroughbred racehorse farm. She gives its manager, Bo Porter, six months to close the place down.

Bo's determined to resent the woman who's decided to rob him of his dream. But instead of anger, Meg evokes within him a profound desire to protect. The more time he spends with her, the more he longs to overcome every obstacle that separates them--her wealth, his unworthiness, her family's outrage--and earn the right to love her.

But just when Meg begins to realize that Bo might be the one thing on the ranch worth keeping, their fragile bond is viciously broken by a force from Meg's past. Can their love--and their belief that God can work through every circumstance--survive?

- Publisher
You May Also Be Interested In
About "Undeniably Yours (#01 in Porter Family Novel Series)"
Winsome and Romantic--the Perfect Summer Read!

When Meg Cole's father dies unexpectedly, she becomes the majority shareholder of his oil company and the single inheritor of his fortune. Though Meg is soft-spoken and tenderhearted--more interested in art than in oil--she's forced to return home to Texas and to Whispering Creek Ranch to take up the reins of her father's empire.

The last thing she has the patience or the sanity to deal with? Her father's thoroughbred racehorse farm. She gives its manager, Bo Porter, six months to close the place down.

Bo's determined to resent the woman who's decided to rob him of his dream. But instead of anger, Meg evokes within him a profound desire to protect. The more time he spends with her, the more he longs to overcome every obstacle that separates them--her wealth, his unworthiness, her family's outrage--and earn the right to love her.

But just when Meg begins to realize that Bo might be the one thing on the ranch worth keeping, their fragile bond is viciously broken by a force from Meg's past. Can their love--and their belief that God can work through every circumstance--survive?
- Publisher


Meet the Author
Becky Wade
Becky Wade is a graduate of Baylor University. As a newlywed, she lived for three years in a home overlooking the turquoise waters of the Caribbean, as well as in Australia, before returning to the States. A mom of three young children, Becky and her family now live in Dallas, Texas. Visit her website at www.beckywade.com. A
Media
Customer Reviews For "Undeniably Yours (#01 in Porter Family Novel Series)"
Write Your Own Review
Book #1 in a good series
By Meredith Resce,

Dec 31 2016
I have read one of Becky Wade's books before, and liked her writing. She creates engaging characters and interesting plot. This story has all the elements of romance plus tension and drama. The author writes in a realistic manner, her dialogue and character interaction are credible. You'll enjoy this story, and want to read the next in the series.
---
EXCELLENT FICTION
By Shelley,

Jan 25 2015
Undeniably Yours is the first of Becky Wade's books that I have read.  As an avid reader, I have to be captivated early on to continue to read.  This book doesn't fail to captivate.  It introduced me to what a talented writer Becky Wade is and just made me want to read more of the Porter family.  Becky weaves God's word through her stories in a really wonderful way. I don't give 5 stars on a whim but every one of Becky's books are 5 star reading.  I can't wait for "A Love Like Ours" coming in May.  
---
Great Fun
By Hannah,

Apr 21 2014
What's not to love about a real-life cowboy and a rich heiress with more money than she ever wanted?! I picked this out (yep, loved the cover!), not knowing anything about the author and was happily surprised to find a delightful story with loveable characters, a bit of intrigue and a good old babysitting scene where the babysitters know nothing about kids - among other great scenes. Really enjoyed this book and am thrilled to find a new author whose writing I enjoy.
---
Wonderful
By Marion,

Aug 17 2013
Becky Wade's beautiful and heartwarming story, Undeniably Yours was wonderful. It's the sort of book that warms you right down to you toes, providing that 'ah' feeling of contentment. 

Her characters were both believable and loveable, except the villiain of course. Written in third person, Wade skilfully penned a gentle, Christian romance, which was captivating, thought provoking and encouraging for those who believe. I found it hard to put down. Cleverly intertwined with the love story, was a sociopathic man, bent on destroying lives. 

Trust is one of those things, that once lost, is very hard to regain. Heiress, Megan Cole, had had her heart damaged by her ex-husband in a most humiliating and unkind way. Her father's love had been distant, controlling. She wasn't convinced that she was lovable for who she was, or only for her vast inheritance. Throughout the story however, she learnt a very valuable lesson, that trust in man can provide heartache, but trust in God could provide completeness and peace. 

Bo Porter, a strong, handsome and faithful man had always been protective by instinct. His life was his faith, his family and his horses. When he first meets Meg Cole, his future suddenly looked uncertain. He hadn't expected to love the sweet beauty, or lose his heart to her kindness and inner fortitude. He also hadn't expected to almost lose her either. 

This was a journey toward new beginnings. A journey toward entrusting all in God's hands, and faithfully trusting Him to guide and direct their paths according to His will. 

I loved the writing, I loved the story, and was enchanted with the characters and their lives. I would highly recommend this story to anyone who loves Christian romances with a touch of malice as well. 

---
Great book
By Jessica R. Wakefield,

Jun 02 2013
It was the cover that had me from the get-go. Who can resist the gorgeous girly pink and white title, coupled with those totally awesome shoes? Plus the guy? I don't care what he looks like, at this point the cover has won be hands down, so the guy is just part of the awesome package! This book just screamed at me to read it. And I did.

Meg Cole, daughter of a Texas oil baron, has inherited the company from her now deceased father. She has no idea how to run a multimillion dollar company and doesn't really care that much to find out. But it's hers and she's got to figure it out. What she doesn't want to figure out is her father's thoroughbred racehorse farm, or the guy who runs it - Bo Porter. Intent on shutting it down, Meg gives Bo a time frame to settle accounts and shut down the farm - six months.

Things do not go as planned for these two on their rocky yet captivating road to romance.
Meg's past has left her scarred emotionally on many levels. Unable to trust people, particularly her judgment of men, leaves her weary to open her heart and trust again. Bo is a man of character and strength - inside and out. We see this page, after page and we fall for him along with Meg.

Becky Wade is a new author to me and I enjoyed this book a great deal. I personally believe Bo is the glue that holds both Meg and this book together. He's calm, assured strength could withstand a hurricane if it had to and it almost does - an emotional one. In turn watching Meg slowly come into her own is great though. As her faith continues to deepen, so does her strength and will to seize the plans God has for her and to run with them with utter freedom. It's quite beautiful really.

Becky Wade has given readers strong, yet vulnerable characters, a beautiful setting, a great romance and a dream that just snuggles into your heart and stays there.

Thank you to NetGalley for a copy of this novel for review.  I was in no way obliged to give a positive 
review.
{{review.title}}
By {{review.author.name}},

{{review.reviewCreatedDate | date:'MMM dd yyyy'}}

{{reviewdescription}}
{{review.text}}
---
Other Titles In The "Porter Family Novel Series" Series View All