Understanding Gender Dysphoria: Navigating Transgender Issues in a Changing Culture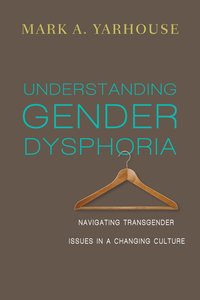 Foreword Reviews' 18th Annual INDIEFAB Honorable Mention for PsychologyFew topics are more contested today than gender identity. In the fog of the culture war, complex issues like gender dysphoria are reduced to slogans and sound bites. And while the war rages over language, institutions and political allegiances, transgender individuals are the ones who end up being the casualties.Mark Yarhouse, an expert in sexual identity and therapy, challenges the church to rise above the political hostilities and listen to people's stories. In Understanding Gender Dysphoria, Yarhouse offers a Christian perspective on transgender issues that eschews simplistic answers and appreciates the psychological and theological complexity. The result is a book that engages the latest research while remaining pastorally sensitive to the experiences of each person.In the midst of a tense political climate, Yarhouse calls Christians to come alongside those on the margins and stand with them as they resolve their questions and concerns about gender identity. Understanding Gender Dysphoria is the book we need to navigate these stormy cultural waters.

- Publisher
You May Also Be Interested In
About "Understanding Gender Dysphoria: Navigating Transgender Issues in a Changing Culture"
Foreword Reviews' 18th Annual INDIEFAB Honorable Mention for PsychologyFew topics are more contested today than gender identity. In the fog of the culture war, complex issues like gender dysphoria are reduced to slogans and sound bites. And while the war rages over language, institutions and political allegiances, transgender individuals are the ones who end up being the casualties.Mark Yarhouse, an expert in sexual identity and therapy, challenges the church to rise above the political hostilities and listen to people's stories. In Understanding Gender Dysphoria, Yarhouse offers a Christian perspective on transgender issues that eschews simplistic answers and appreciates the psychological and theological complexity. The result is a book that engages the latest research while remaining pastorally sensitive to the experiences of each person.In the midst of a tense political climate, Yarhouse calls Christians to come alongside those on the margins and stand with them as they resolve their questions and concerns about gender identity. Understanding Gender Dysphoria is the book we need to navigate these stormy cultural waters.
- Publisher


Meet the Author
Mark Yarhouse
Mark A. Yarhouse (Psy.D., Wheaton College) is professor of psychology and director of the Institute for the Study of Sexual Identity (www.sexualidentityinstitute.org) at Regent University in Virginia Beach, Virginia, where he has taught since 1998. A licensed clinical psychologist, he serves as an adjunct faculty member of both the Institute for Sexual Wholeness in Atlanta, Georgia, and the psychology department of Wheaton College Graduate School.
His books include Modern Psychopathologies: A Comprehensive Christian Appraisal, co-authored with Richard E. Butman and Barrett W. McRay, Sexual Identity Synthesis: A Guide to Living in the Time Between the Times, co-authored with Lori A. Burkett, Sexual Identity Synthesis: Attributions, Meaning-Making and the Search for Congruence, co-authored with Erica S. N. Tan, Homosexuality: The Use of Scientific Research in the Church's Moral Debate, and Ex-gays?: A Longitudinal Study of Religiously Mediated Change in Sexual Orientation co-authored with Stanton L. Jones. Most recently he has produced Family Therapies: A Comprehensive Christian Appraisal with James N. Sells.
Koorong - Editorial Review.
Table Of Contents
foreword Reviews' 18th Annual Indiefab Honorable Mention For Psychologyfew Topics Are More Contested Today Than Gender Identity. In The Fog Of The Culture War, Complex Issues Like Gender Dysphoria Are Reduced To Slogans And Sound Bites. And While The War Rages Over Language, Institutions And Political Allegiances, Transgender Individuals Are The Ones Who End Up Being The Casualties.mark Yarhouse, An Expert In Sexual Identity And Therapy, Challenges The Church To Rise Above The Political Hostilities And Listen To People's Stories. In understanding Gender Dysphoria, Yarhouse Offers A Christian Perspective On Transgender Issues That Eschews Simplistic Answers And Appreciates The Psychological And Theological Complexity. The Result Is A Book That Engages The Latest Research While Remaining Pastorally Sensitive To The Experiences Of Each Person.in The Midst Of A Tense Political Climate, Yarhouse Calls Christians To Come Alongside Those On The Margins And Stand With Them As They Resolve Their Questions And Concerns About Gender Identity. understanding Gender Dysphoria Is The Book We Need To Navigate These Stormy Cultural Waters.