Understanding Jesus and Muhammad: What the Ancient Texts Say About Them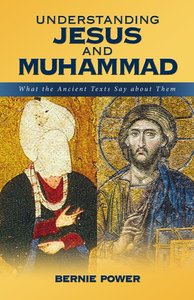 Jesus and Muhammad are arguably the two most influential individuals who have ever lived. Over half of the world today claims to follow them and the religions they founded: Christianity and Islam.But who were these two men? Where did they come from? What did they do and teach? And what was their vision for the future? This book answers all these questions, drawing on the earliest ancient documents we have about them. In the light of the current tensions that exist in the world, the future of civilisation may well depend on how humanity responds to Jesus and Muhammad.

- Publisher
You May Also Be Interested In
About "Understanding Jesus and Muhammad: What the Ancient Texts Say About Them"
Jesus and Muhammad are arguably the two most influential individuals who have ever lived. Over half of the world today claims to follow them and the religions they founded: Christianity and Islam.But who were these two men? Where did they come from? What did they do and teach? And what was their vision for the future? This book answers all these questions, drawing on the earliest ancient documents we have about them. In the light of the current tensions that exist in the world, the future of civilisation may well depend on how humanity responds to Jesus and Muhammad.
- Publisher


Meet the Author
Bernie Power
Bernie Power holds degrees in Science, Arts and Theology. His doctorate focused on the Hadith. He has spent over twenty years as an Interserve partner living and working among Muslims in Asia and the Middle East. Currently he lectures in Islamic Studies at the Melbourne School of Theology, Australia. His desire is to help Christians and Muslims understand more about each other and what they believe.
Table Of Contents
Jesus And Muhammad Are Arguably The Two Most Influential Individuals Who Have Ever Lived. Over Half Of The World Today Claims To Follow Them And The Religions They Founded: Christianity And Islam.but Who Were These Two Men? Where Did They Come From? What Did They Do And Teach? And What Was Their Vision For The Future? This Book Answers All These Questions, Drawing On The Earliest Ancient Documents We Have About Them. In The Light Of The Current Tensions That Exist In The World, The Future Of Civilisation May Well Depend On How Humanity Responds To Jesus And Muhammad.