Understanding People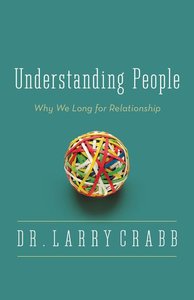 'Every attempt to help people must first begin with an effort to understand people,' says Dr. Larry Crabb. 'And the only fully reliable source of information on that topic is the Bible.' In this Gold Medallion Award-winning classic, Dr. Crabb affirms the power of the Scriptures to address the intricacies and deep needs of the human heart. Exploring the inseparable link between spiritual and psychological realities, Understanding People offers a vital lens on how we're put together---who we really are and what makes us tick in our relationships with other people, with God, and with ourselves. In three parts, this book first points us to the Bible as our source of insight into perplexing heart issues. Then it helps us come to grips with our brokenness as God's image-bearers, and it shows how we can reclaim our ability to reflect him in our growth toward maturity and healed relationships.

- Publisher
You May Also Be Interested In
About "Understanding People"
'Every attempt to help people must first begin with an effort to understand people,' says Dr. Larry Crabb. 'And the only fully reliable source of information on that topic is the Bible.' In this Gold Medallion Award-winning classic, Dr. Crabb affirms the power of the Scriptures to address the intricacies and deep needs of the human heart. Exploring the inseparable link between spiritual and psychological realities, Understanding People offers a vital lens on how we're put together---who we really are and what makes us tick in our relationships with other people, with God, and with ourselves. In three parts, this book first points us to the Bible as our source of insight into perplexing heart issues. Then it helps us come to grips with our brokenness as God's image-bearers, and it shows how we can reclaim our ability to reflect him in our growth toward maturity and healed relationships.
- Publisher


Meet the Author
Larry Crabb
Dr. Larry Crabb is a well-known psychologist, seminar speaker, Bible teacher, author and founder/director of New Way Ministries. He is also Scholar in Residence at Colorado Christian University and serves as Spiritual Director for the American Association of Christian Counsellors. His many popular books include Inside Out, Finding God, Connecting, The Safest Place on Earth, The Papa Prayer, SoulTalk and most recently Real Church: Does it exist? Can I find it?