Understanding the Purpose and Power of Men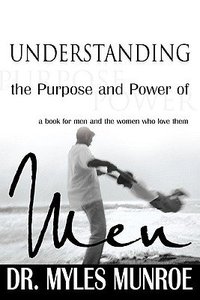 224 Pages

- Publisher The male is in crisis. Traditional roles once gave men stability and continuity from generation to generation. Today, the world is sending out conflicting signals about what it means to be a man. Many men are questioning who they are and what roles they fulfill in life--as men, fathers, and husbands. This uncertainty is disrupting their personal and professional lives, leaving them frustrated and causing them to live far below their potential. It is creating cracks in the foundation of society. Best-selling author Myles Munroe examines cultural attitudes toward men and discusses the purpose God has given them. Discover the destiny and potential of the man as he was meant to be.

- Publisher Dr. Myles Munroe, an internationally acclaimed speaker and best-selling writer, inspires believers everywhere with his anointing to communicate Gods message of personal potential, purpose, and destiny. He travels extensively sharing his talents and his faith in God. As founder and president of Bahamas Faith Ministries International and founder, executive producer, and principal host of a number of radio and television programs, he knows that people need to understand their roles and responsibilities in order to be successful and fulfilled. As he addresses critical issues affecting the social and spiritual development of individuals, the central theme of Dr. Munroes message is the transformation of followers into leaders and the maximization of individual potential. He has earned degrees from Oral Roberts University and the University of Tulsa, and has an honorary doctorate from Oral Roberts University. Dr. Munroe and his wife, Ruth, travel together as seminar speakers, and they are the proud parents of two children, Charisa and Myles, Jr.

- Publisher
You May Also Be Interested In
About "Understanding the Purpose and Power of Men"
224 Pages
- Publisher

The male is in crisis. Traditional roles once gave men stability and continuity from generation to generation. Today, the world is sending out conflicting signals about what it means to be a man. Many men are questioning who they are and what roles they fulfill in life--as men, fathers, and husbands. This uncertainty is disrupting their personal and professional lives, leaving them frustrated and causing them to live far below their potential. It is creating cracks in the foundation of society. Best-selling author Myles Munroe examines cultural attitudes toward men and discusses the purpose God has given them. Discover the destiny and potential of the man as he was meant to be.
- Publisher

Dr. Myles Munroe, an internationally acclaimed speaker and best-selling writer, inspires believers everywhere with his anointing to communicate Gods message of personal potential, purpose, and destiny. He travels extensively sharing his talents and his faith in God. As founder and president of Bahamas Faith Ministries International and founder, executive producer, and principal host of a number of radio and television programs, he knows that people need to understand their roles and responsibilities in order to be successful and fulfilled. As he addresses critical issues affecting the social and spiritual development of individuals, the central theme of Dr. Munroes message is the transformation of followers into leaders and the maximization of individual potential. He has earned degrees from Oral Roberts University and the University of Tulsa, and has an honorary doctorate from Oral Roberts University. Dr. Munroe and his wife, Ruth, travel together as seminar speakers, and they are the proud parents of two children, Charisa and Myles, Jr.
- Publisher


Meet the Author
Myles Munroe
Dr. Myles Munroe (1954-2014) was an ordained Pentecotal minister, the Founder, President, and Senior Pastor of Bahamas Faith Ministries International, an all-encompassing network of ministries headquartered in Nassau, Bahamas. He was a multi-gifted international motivational speaker, prolific best-selling author and sought-after business consultant. His books and presentations comprehensively address many aspects of human, social and spiritual development.
Table Of Contents
Prefaceintroduction 1. What Is A Real Man? 2. Seven Principles Of Purpose 3. The Creation Of Man 4. God's Purpose For The Male 5. Dominion Versus Domination 6. The Male As Visionary And Leader 7. The Male As Teacher And Cultivator 8. The Male As Provider And Protector 9. A Man And His Sex Life10. Male-female Differences11. How To Be A Good Father12. Keys To Becoming A Real Mana Word To Men Of Third-world Nationsabout The Author