Understanding Your Bible in 15 Minutes a Day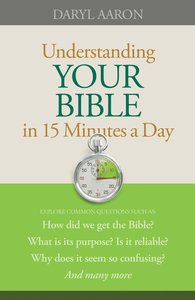 An easy and enjoyable beginner's guide to the Bible, explaining where it came from, what it is about, and why it matters.The Bible can be overwhelming. For those unfamiliar with this huge and ancient book, it's hard to even know where to begin. These short, digestible readings answer questions about where the Bible came from, what it's about, and why it matters. Daryl Aaron blends the knowledge of a college professor with the friendly, welcoming tone of a pastor. Broken into forty small chapters, this book is perfect for those who want quick and clear answers to their questions.A Clear and Friendly Guide to the Bible--That Fits Your Busy Life

The Bible can feel overwhelming at times. What parts should you read first? How can you understand it? What does it mean for your life? Meanwhile, most books about the Bible are time- consuming, leaving you without much time to read the Bible itself.

In Understanding Your Bible in 15 Minutes a Day, Bible professor and former pastor Daryl Aaron answers your most important questions about the bestselling book in history. Broken into topical readings, you can read systematically from the beginning, or pick and choose topics of interest. Each reading is brief, engaging, and easy to understand. Whether you're a beginner or a seasoned reader of the Bible, in just minutes a day you'll soon have a better understanding of the Scriptures.Daryl Aaron earned his ThM at Dallas Theological Seminary and his PhD at Graduate Theological Foundation. He spent fourteen years in pastoral ministry before coming to Northwestern College to teach theology and Bible. Dr. Aaron lives in Mounds View, Minnesota, with his wife.
You May Also Be Interested In
About "Understanding Your Bible in 15 Minutes a Day"
An easy and enjoyable beginner's guide to the Bible, explaining where it came from, what it is about, and why it matters.The Bible can be overwhelming. For those unfamiliar with this huge and ancient book, it's hard to even know where to begin. These short, digestible readings answer questions about where the Bible came from, what it's about, and why it matters. Daryl Aaron blends the knowledge of a college professor with the friendly, welcoming tone of a pastor. Broken into forty small chapters, this book is perfect for those who want quick and clear answers to their questions.A Clear and Friendly Guide to the Bible--That Fits Your Busy Life

The Bible can feel overwhelming at times. What parts should you read first? How can you understand it? What does it mean for your life? Meanwhile, most books about the Bible are time- consuming, leaving you without much time to read the Bible itself.

In Understanding Your Bible in 15 Minutes a Day, Bible professor and former pastor Daryl Aaron answers your most important questions about the bestselling book in history. Broken into topical readings, you can read systematically from the beginning, or pick and choose topics of interest. Each reading is brief, engaging, and easy to understand. Whether you're a beginner or a seasoned reader of the Bible, in just minutes a day you'll soon have a better understanding of the Scriptures.Daryl Aaron earned his ThM at Dallas Theological Seminary and his PhD at Graduate Theological Foundation. He spent fourteen years in pastoral ministry before coming to Northwestern College to teach theology and Bible. Dr. Aaron lives in Mounds View, Minnesota, with his wife.
- Koorong

Short, Friendly Beginner's Guide to the Bible

The Bible can be overwhelming. For those unfamiliar with this huge and ancient book, it's hard to even know where to begin. These short, digestible readings answer questions about where the Bible came from, what it's about, and why it matters. Daryl Aaron blends the knowledge of a college professor with the friendly, welcoming tone of a pastor. Broken into forty small chapters, this book is perfect for those who want quick and clear answers to their questions.
- Publisher


Meet the Author
Daryl Aaron
Daryl Aaron earned his ThM at Dallas Theological Seminary and his PhD at Graduate Theological Foundation. He spent fourteen years in pastoral ministry before coming to Northwestern College to teach theology and Bible. Dr. Aaron lives in Mounds View, Minnesota, with his wife. A