Undetected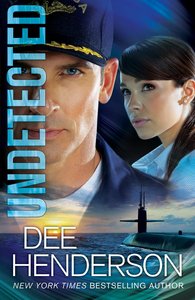 When asked what he does for a living ...

Commander Mark Bishop is deliberately low-key: "I'm in the Navy." But commanding the ballistic missile submarine USS Nevada, keeping her crew trained and alert during ninety-day submerged patrols, and being prepared to launch weapons on valid presidential orders, carries a burden of command like few other jobs in the military. Mark Bishop is a man who accepts that responsibility, and handles it well. And at a time when tensions are escalating around the Pacific Rim, the Navy is glad to have him.

Mark wants someone to come home to after sea patrols. The woman he has in mind is young, with a lovely smile, and very smart. She's a civilian, yet she understands the U.S. Navy culture. And he has a strong sense that life with her would never be boring. But she may be too deep in her work to see the potential in a relationship with him.

Gina Gray would love to be married. She has always envisioned her life that way. A breakup she didn't see coming, though, has her focusing all her attention on what she does best--ocean science research. She's on the cusp of a major breakthrough, and she needs Mark Bishop's perspective and help. Because what she told the Navy she's figured out is only the beginning. If she's right, submarine warfare is about to enter a new and dangerous chapter.

- Publisher
You May Also Be Interested In
About "Undetected"
When asked what he does for a living ...

Commander Mark Bishop is deliberately low-key: "I'm in the Navy." But commanding the ballistic missile submarine USS Nevada, keeping her crew trained and alert during ninety-day submerged patrols, and being prepared to launch weapons on valid presidential orders, carries a burden of command like few other jobs in the military. Mark Bishop is a man who accepts that responsibility, and handles it well. And at a time when tensions are escalating around the Pacific Rim, the Navy is glad to have him.

Mark wants someone to come home to after sea patrols. The woman he has in mind is young, with a lovely smile, and very smart. She's a civilian, yet she understands the U.S. Navy culture. And he has a strong sense that life with her would never be boring. But she may be too deep in her work to see the potential in a relationship with him.

Gina Gray would love to be married. She has always envisioned her life that way. A breakup she didn't see coming, though, has her focusing all her attention on what she does best--ocean science research. She's on the cusp of a major breakthrough, and she needs Mark Bishop's perspective and help. Because what she told the Navy she's figured out is only the beginning. If she's right, submarine warfare is about to enter a new and dangerous chapter.
- Publisher


Meet the Author
Dee Henderson
Pastor's daughter Dee Henderson is a lifelong resident of Illinois, USA, and currently resides in Springfield. She believes that marketing books should be about the stories rather than the writer, so she keeps a low profile compared to many authors. Her background is in mathematics and computing science (B.Sc 1988) and she had a high paying job as an engineer before she moved into full-time writing in 1996. Her technical expertise has given her an unusually keen insight into the structural aspects of storytelling. The results are plain to see; since 1999, Dee has produced two bestselling fiction series - the acclaimed O'Malley series and Uncommon Heroes - as well as eleven stand-alone titles.

Dee's books brilliantly mix suspense and romance, and her characters undergo varied and interesting faith journeys that are integrated skillfully into the storylines. Dee's work has won or been nominated for several prestigious industry awards including the RWA's RITA Award, the Christy Award, the ECPA Gold Medallion, the Holt Medallion, the National Readers' Choice Award, and the Golden Quill.
Customer Reviews For "Undetected"
Write Your Own Review
Insightful
By Bri,

Jun 30 2016
I love the in depth knowledge that Dee brings into the story about submarines and the data around such things. Her perceptions really added a whole new depth to the story line to make it a unique read. 
Gina's character is a bit needy, but she develops throughout time and gains confidence in who she is.

Bruce initially sees his role as that of being a rescuer and slowly his thought matures. 

This is more focused on the romance story with not much of a mystery element to the story, however the well developed technique in the marine warfare and submarine discoveries compensated for the lack of a mystery 

 
---
Awesome
By Trudy ,

Jun 30 2016
A great read that focuses in on the importance of having true relationships and friendships to take you through your toughest moments in life. 
I love how the characters deal with their issues and face their fears to overcome the trials that life throws at them and the importance placed on family 
---
Light reading
By Tanja,

Nov 26 2015
This book is about a woman, Gina, who has not had success in her romantic relationships so far. Because of this, she makes some changes in her life, moves location and focuses more on her career. With this move comes the comfort of being with her brother for awhile and with that, meeting new people. This book gives a description of Navy life; the sacrifices they make for their families, but the adventures that they encounter.

I like how the author has taken time to build the characters and gives insights into several of them. The perspective does not come from one character only. Overall it is a sweet love story of two good people finding love.
---
A brilliant read
By Narelle,

Jan 29 2015
Fantastic book from this well known author. This one is based on a romance that builds in a navy setting and the research Dee Henderson has done is amazing. I learnt a lot about submarines and the life submariners lead through this book. I found it hard to put down and it was well worth buying. In fact I must seek out the rest of the series now!
---
Could not put down
By Clare,

Dec 31 2014
Yet another amazing book by Dee Henderson! Undetected is about Gina Grey, a genius sonar scientist and Mark Bishop, a submarine commander (also happens to be brother to Bryce Bishop from Unspoken - I love when Dee Henderson connects characters between books). I loved how the book was based around submarines - the research Dee Henderson must have done for this book was on a whole other level compared to her previous books. The romance between the two characters felt realistic according to how I felt the characters would have acted. Looking forward to seeing what Dee Henderson writes next 
{{review.title}}
By {{review.author.name}},

{{review.reviewCreatedDate | date:'MMM dd yyyy'}}

{{reviewdescription}}
{{review.text}}
---