Unlikely Ways Home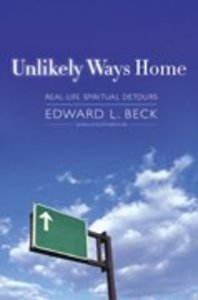 Chapter One Leaky Roofs He was the kind of guy that she usually avoided; she was the kind of girl he always fell for. Bill was standing by the window of his dorm room as Madeline was hurrying across the university quadrangle. Something moved inside him. "The sun was hitting those red curls in just the right way, like a fiery frame on a perfect picture." His infatuation is visible even today, thirty-seven years later, as he recalls that moment in the quadrangle, remembering how the overflow of her glowing hair rested gently on the upturned collar of her peacoat. "She looked off-the-boat Irish," he says, "with a small upturned nose and skin the color of milk. I said to my roommate, Brian, 'Hey, who's she?' " Bill says that Brian jumped up from the bed. "Oh, yeah," he said from the window, somewhat disappointed. "I've seen her before. Cute, huh? I think her name is Margaret, or something like that. I saw her with some girlfriends at the two-for-one last week at Mickey's. She seemed to hang out with her friends most of the night." Bill ran out the door and down the two flights to catch up with Madeline, who was racing to a political science class that had begun ten minutes earlier. "Hi, how are you?" said Bill, breathless behind her. Madeline turned to see a guy she recognized from around campus. She remembered watching him and his friends throw some freshman into a university pond outside the science building. A few times she had noticed him towing his bulky lacrosse gear to practice. He wasn't her type. She liked bookish guys, ones who used words that sent others to the dictionary and who wore cardigan sweaters worn thin at the elbows. "Hi," she said, and turned around and kept walking. "Um . . . I'm Bill. Bill Fagan. I don't think we've met before, but I'd love to change that." Bill now stood in front, blocking her way. Madeline rolled her eyes, unimpressed by the unoriginal line. She had come from a small New England town outside of Boston and was used to more passive men, ones like her father and brother, who preferred discussing the relevance of Thoreau in the computer age to chatting up chicks. The men Madeline knew moved through life with a hint of repression. The man standing in front of her didn't seem to be that kind of man. But she was now seeing Bill close-up for the first time. "He had those turquoise eyes," she says, "with long black lashes that seemed to tickle his eyebrows. He was pretty startling, I have to admit." He wore an oversized sweatshirt with a large "A" on the front. It hung loosely on his well-built frame, the hood forming a high collar around his handsome, slightly pockmarked face. "It's funny, though," says Madeline. "What I remember most is that he smelled of baby oil." They were in their second year at a prestigious Catholic university in the South. Bill was the product of New England prep schools, but lacked the highbrow intellectual air of many of his classmates. Madeline had heard stories of the escapades of Bill and his frat buddies. Rumor had it that they rallied weekly in their dorm to show the Southern boys how beer was really supposed to be drunk. Hardly something that would impress Madeline. "Look, I'm really late for class," Madeline said, "and I don't get most of what this professor talks about anyway, so I really have to run." Bill says he knew he was getting the brush-off, but refused to take the hint. "Okay, sure, but how about tonight or tomorrow? I could just stop by to say hello." And that's just what he did--for the next two years--a lot of hellos, and too many good-byes. Bill and Madeline became smitten lovers: studying economics and the required theology courses together; eating the bad cafeteria fo

- Publisher An engaging collection of twelve real-life stories that illuminate the ways God is present in everyday life Edward L. Beck's first book, "God Underneath, was hailed as "a graceful and gracious work of self-revelation and spiritual wisdom" by the" Los Angeles Times, and a review in the" Dallas Morning News declared, "Edward Beck is a heck of a writer, and his gem of a book is not to be missed . . . you will not be able to put this book down." In "Unlikely Ways Home, Beck once again uses anecdotes and observations from his work as a Catholic priest to reveal the spiritual dimensions of ordinary life. The stories in "Unlikely Ways Home encompass a wide range of topics, from the 9/11 attacks to such ongoing issues and concerns as addiction, adultery, and sexuality. Beck shares the poignant reflections of a man who lost his fireman son in the attack on the World Trade Center and describes, with refreshing honesty and compassion, the efforts of a gay couple to find a place for themselves withinthe Catholic Church. Written in a friendly, conversational style, "Unlikely Ways Home is a moving, spiritually inspiring book that will appeal to both Catholic audiences and the general reader.

- Publisher
You May Also Be Interested In
About "Unlikely Ways Home"
Chapter One Leaky Roofs He was the kind of guy that she usually avoided; she was the kind of girl he always fell for. Bill was standing by the window of his dorm room as Madeline was hurrying across the university quadrangle. Something moved inside him. "The sun was hitting those red curls in just the right way, like a fiery frame on a perfect picture." His infatuation is visible even today, thirty-seven years later, as he recalls that moment in the quadrangle, remembering how the overflow of her glowing hair rested gently on the upturned collar of her peacoat. "She looked off-the-boat Irish," he says, "with a small upturned nose and skin the color of milk. I said to my roommate, Brian, 'Hey, who's she?' " Bill says that Brian jumped up from the bed. "Oh, yeah," he said from the window, somewhat disappointed. "I've seen her before. Cute, huh? I think her name is Margaret, or something like that. I saw her with some girlfriends at the two-for-one last week at Mickey's. She seemed to hang out with her friends most of the night." Bill ran out the door and down the two flights to catch up with Madeline, who was racing to a political science class that had begun ten minutes earlier. "Hi, how are you?" said Bill, breathless behind her. Madeline turned to see a guy she recognized from around campus. She remembered watching him and his friends throw some freshman into a university pond outside the science building. A few times she had noticed him towing his bulky lacrosse gear to practice. He wasn't her type. She liked bookish guys, ones who used words that sent others to the dictionary and who wore cardigan sweaters worn thin at the elbows. "Hi," she said, and turned around and kept walking. "Um . . . I'm Bill. Bill Fagan. I don't think we've met before, but I'd love to change that." Bill now stood in front, blocking her way. Madeline rolled her eyes, unimpressed by the unoriginal line. She had come from a small New England town outside of Boston and was used to more passive men, ones like her father and brother, who preferred discussing the relevance of Thoreau in the computer age to chatting up chicks. The men Madeline knew moved through life with a hint of repression. The man standing in front of her didn't seem to be that kind of man. But she was now seeing Bill close-up for the first time. "He had those turquoise eyes," she says, "with long black lashes that seemed to tickle his eyebrows. He was pretty startling, I have to admit." He wore an oversized sweatshirt with a large "A" on the front. It hung loosely on his well-built frame, the hood forming a high collar around his handsome, slightly pockmarked face. "It's funny, though," says Madeline. "What I remember most is that he smelled of baby oil." They were in their second year at a prestigious Catholic university in the South. Bill was the product of New England prep schools, but lacked the highbrow intellectual air of many of his classmates. Madeline had heard stories of the escapades of Bill and his frat buddies. Rumor had it that they rallied weekly in their dorm to show the Southern boys how beer was really supposed to be drunk. Hardly something that would impress Madeline. "Look, I'm really late for class," Madeline said, "and I don't get most of what this professor talks about anyway, so I really have to run." Bill says he knew he was getting the brush-off, but refused to take the hint. "Okay, sure, but how about tonight or tomorrow? I could just stop by to say hello." And that's just what he did--for the next two years--a lot of hellos, and too many good-byes. Bill and Madeline became smitten lovers: studying economics and the required theology courses together; eating the bad cafeteria fo
- Publisher

An engaging collection of twelve real-life stories that illuminate the ways God is present in everyday life Edward L. Beck's first book, "God Underneath, was hailed as "a graceful and gracious work of self-revelation and spiritual wisdom" by the" Los Angeles Times, and a review in the" Dallas Morning News declared, "Edward Beck is a heck of a writer, and his gem of a book is not to be missed . . . you will not be able to put this book down." In "Unlikely Ways Home, Beck once again uses anecdotes and observations from his work as a Catholic priest to reveal the spiritual dimensions of ordinary life. The stories in "Unlikely Ways Home encompass a wide range of topics, from the 9/11 attacks to such ongoing issues and concerns as addiction, adultery, and sexuality. Beck shares the poignant reflections of a man who lost his fireman son in the attack on the World Trade Center and describes, with refreshing honesty and compassion, the efforts of a gay couple to find a place for themselves withinthe Catholic Church. Written in a friendly, conversational style, "Unlikely Ways Home is a moving, spiritually inspiring book that will appeal to both Catholic audiences and the general reader.
- Publisher


Meet the Author
Edward L Beck
EDWARD L. BECK, C.P., is a Roman Catholic priest of the Passionist Community. In addition to giving retreats and workshops on spirituality nationally and internationally, Father Beck writes and develops mainstream television and film projects and is a commentator on religious and fatih issues for various media outlets. He lives in New York City. His Web site is www.EdwardLBeck.com.