Unlocking the Scriptures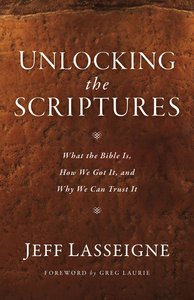 :How We Got the Bible and Why It Is Reliable

The Bible is the bestselling, most read, most beloved, most criticized, most neglected, and most antagonizing book in history. It's also the most misunderstood--sometimes even by those who claim to follow its teachings. So what exactly is it? Who wrote it and how did those writings come together into what we now know as the Bible? And how do we know we can trust what it says?

For the curious reader, whether a lifelong Christian, a new believer, or an unconvinced skeptic, Unlocking the Bible provides the answers to these questions and more. In easy-to-understand language, it covers the Bible's origin, its transmission throughout history, its trustworthiness, and its significance. It also explains how to read this unique collection of religious texts and outlines how to study and teach it to others.

- Publisher
You May Also Be Interested In
About "Unlocking the Scriptures"
:How We Got the Bible and Why It Is Reliable

The Bible is the bestselling, most read, most beloved, most criticized, most neglected, and most antagonizing book in history. It's also the most misunderstood--sometimes even by those who claim to follow its teachings. So what exactly is it? Who wrote it and how did those writings come together into what we now know as the Bible? And how do we know we can trust what it says?

For the curious reader, whether a lifelong Christian, a new believer, or an unconvinced skeptic, Unlocking the Bible provides the answers to these questions and more. In easy-to-understand language, it covers the Bible's origin, its transmission throughout history, its trustworthiness, and its significance. It also explains how to read this unique collection of religious texts and outlines how to study and teach it to others.
- Publisher


Meet the Authors
Jeff Lasseigne
Jeff Lasseigne is the Assistant Pastor at Harvest Christian Fellowship in Riverside, California. Jeff and his wife Lorraine have three adult children and six grandchildren. They make their home in Riverside.