Unshakable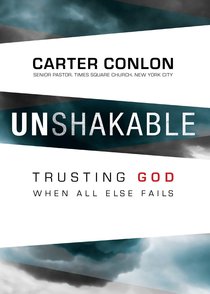 The global financial crisis that began five years ago came as a shock to economists and to Wall Street movers and shakers, but it was no surprise to those in step with God's Spirit. In UNSHAKABLE, Carter Conlon, senior pastor of Times Square Church in New York City, offers a prophetic message of hope to God's people around the world. Yes, difficult days still lie ahead, but the Holy Spirit intends to use this season of uncertainty to rebuild the foundation of the Church for a future that brings glory to God. Do not fear! Instead, find out how you can stand strong through the coming storms, trusting the Lord to transform your life even through trials and pain.

"It's a great joy and a deep comfort to know that God's voice is speaking 'for such a time as this' in New York City and beyond."--Eric Metaxas, New York Times bestselling author of Bonhoeffer: Pastor, Martyr, Prophet, Spy

"As a generation clings desperately to their worldly possessions in the face of looming poverty, Carter Conlon preaches an unshakable gospel of Christ crucified and confidence found only in the cross."--John Hoover, New York Times bestselling author

- Publisher
You May Also Be Interested In
About "Unshakable"
The global financial crisis that began five years ago came as a shock to economists and to Wall Street movers and shakers, but it was no surprise to those in step with God's Spirit. In UNSHAKABLE, Carter Conlon, senior pastor of Times Square Church in New York City, offers a prophetic message of hope to God's people around the world. Yes, difficult days still lie ahead, but the Holy Spirit intends to use this season of uncertainty to rebuild the foundation of the Church for a future that brings glory to God. Do not fear! Instead, find out how you can stand strong through the coming storms, trusting the Lord to transform your life even through trials and pain.

"It's a great joy and a deep comfort to know that God's voice is speaking 'for such a time as this' in New York City and beyond."--Eric Metaxas, New York Times bestselling author of Bonhoeffer: Pastor, Martyr, Prophet, Spy

"As a generation clings desperately to their worldly possessions in the face of looming poverty, Carter Conlon preaches an unshakable gospel of Christ crucified and confidence found only in the cross."--John Hoover, New York Times bestselling author
- Publisher


Meet the Author
Carter Conlon
Carter Conlon is Senior Pastor of Times Square Church in New York City, an inter-denominational church with more than 8,000 people that represent more than 100 nationalities. He receives many invitations to preach at conferences and evangelistic rallies throughout the world and is the author of The 180 Degree Christian.