Unshockable Love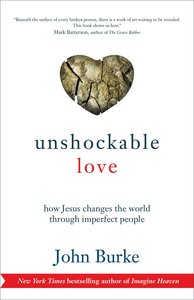 Why were sinners so attracted to Jesus yet repelled by the religious? It had everything to do with the heart of Jesus. They sensed that Jesus was for them--not against them. When broken, sinful people feel repelled by Christians, we must assess whether our hearts reveal the heart of God or reflect the heart of the Pharisees. Through this engaging study of Jesus's encounters with imperfect people, combined with real-life stories of ordinary people having Christlike impact, readers will learn how to show unshockable love toward those around them.

- Publisher
You May Also Be Interested In
About "Unshockable Love"
Why were sinners so attracted to Jesus yet repelled by the religious? It had everything to do with the heart of Jesus. They sensed that Jesus was for them--not against them. When broken, sinful people feel repelled by Christians, we must assess whether our hearts reveal the heart of God or reflect the heart of the Pharisees. Through this engaging study of Jesus's encounters with imperfect people, combined with real-life stories of ordinary people having Christlike impact, readers will learn how to show unshockable love toward those around them.
- Publisher


Meet the Author
John Burke
John Burke and his wife, Kathy, founded Gateway Church in Austin, Texas, in 1998. Since then, Gateway has grown to over 3,000 people, 70 percent of whom are in their twenties and thirties, and consists mostly of unchurched people who began actively following Christ at Gateway. Burke is also the author of No Perfect People Allowed: Creating a Come-as-You-Are Culture in the Church and Soul Revolution He has contributed the chapter "The Emerging Church and Incarnational Theology" in Listening to the Beliefs of Emerging Churches.