Unstoppable Gospel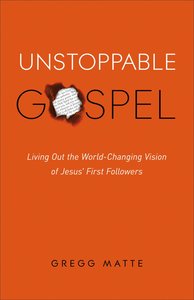 The path of least resistance is seldom the path of greatest impact. This is a truth that the apostles knew intrinsically, but from which we, the modern church, seem to shy away. They boldly proclaimed the Gospel, in season and out of season. We want to avoid risk, avoid stepping on toes, avoid any bad publicity that might come with going out on a limb. But much like the first rockets to leave Earth's atmosphere, giant leaps forward in God's kingdom don't come without a big vision and a great big dose of risk.

In Unstoppable Gospel, pastor Gregg Matte calls readers to take up the task of the early church and go change the world. He shows how using ordinary, everyday people has been God's plan from the beginning and how we all have a part in that plan. He shares many practical ways Christians can get involved in their churches and communities to take advantage of the countless opportunities God provides for us to make a lasting kingdom impact in our world.

- Publisher
You May Also Be Interested In
About "Unstoppable Gospel"
The path of least resistance is seldom the path of greatest impact. This is a truth that the apostles knew intrinsically, but from which we, the modern church, seem to shy away. They boldly proclaimed the Gospel, in season and out of season. We want to avoid risk, avoid stepping on toes, avoid any bad publicity that might come with going out on a limb. But much like the first rockets to leave Earth's atmosphere, giant leaps forward in God's kingdom don't come without a big vision and a great big dose of risk.

In Unstoppable Gospel, pastor Gregg Matte calls readers to take up the task of the early church and go change the world. He shows how using ordinary, everyday people has been God's plan from the beginning and how we all have a part in that plan. He shares many practical ways Christians can get involved in their churches and communities to take advantage of the countless opportunities God provides for us to make a lasting kingdom impact in our world.
- Publisher


Meet the Author
Gregg Matte
GREGG MATTE is the senior pastor of First Baptist Church in Houston, Texas, and the founder of Breakaway Ministries at Texas A&M University, one of the largest college Bible studies in the nation. He is the author of The Highest Education: Becoming a Godly Man and Finding God's Will and the executive producer of numerous Breakaway praise and worship albums. He is also a popular speaker at conferences, camps and retreats across North America. Gregg has been married to his wife, Kelly, since 1997 and together they have a son, Greyson.