Unto the Hills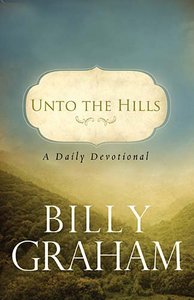 $16.99
$13.59
You Save: $3.40 (20%)
Paperback
The classic 365-day devotional from Billy Graham, now back in print. No matter your place in life, this classic collection of devotional readings is designed to bring you daily to that special place of renewal-to help you pause and gaze "unto the hills" for help and inspiration. Each of the 365 daily readings in this inspiring collection offers a carefully chosen passage of scripture, a brief, thoughtful message from Dr. Graham, and a heartfelt prayer composed especially for this book. Distilled from a lifetime of study and ministry, these devotionals supply daily food for thought about living fruitfully and joyfully in an often fretful world. Simple, direct, encouraging yet challenging, this book offers itself as a heartening companion for your daily walk in the valley. This collection is a gentle but constant reminder that we can find help for all our needs as long as we remember to look up . . . unto the hills but especially unto the Lord.

- Publisher For peace, for strength, for courage and inspiration, look UNTO THE HILLS

Day by day, you can join the nation's most beloved spiritual leader for a moment of quiet and reflection ? a Scripture, a thought, and a prayer.

Billy Graham draws from his lifetime of study and ministry to offer this devotional classic, featuring 365 meditations to calm you and point you toward the One who can always help.


- Publisher
You May Also Be Interested In
About "Unto the Hills"
The classic 365-day devotional from Billy Graham, now back in print. No matter your place in life, this classic collection of devotional readings is designed to bring you daily to that special place of renewal-to help you pause and gaze "unto the hills" for help and inspiration. Each of the 365 daily readings in this inspiring collection offers a carefully chosen passage of scripture, a brief, thoughtful message from Dr. Graham, and a heartfelt prayer composed especially for this book. Distilled from a lifetime of study and ministry, these devotionals supply daily food for thought about living fruitfully and joyfully in an often fretful world. Simple, direct, encouraging yet challenging, this book offers itself as a heartening companion for your daily walk in the valley. This collection is a gentle but constant reminder that we can find help for all our needs as long as we remember to look up . . . unto the hills but especially unto the Lord.
- Publisher

For peace, for strength, for courage and inspiration, look UNTO THE HILLS

Day by day, you can join the nation's most beloved spiritual leader for a moment of quiet and reflection ? a Scripture, a thought, and a prayer.

Billy Graham draws from his lifetime of study and ministry to offer this devotional classic, featuring 365 meditations to calm you and point you toward the One who can always help.

- Publisher


Meet the Author
Billy Graham
An American icon and the greatest religious leader of our time; hailed as the world's preacher, Billy Graham's career has spanned more than five decades and his ministry of faith has touched the hearts and souls of millions. He has preached the Gospel to more people in a live-audience format than anyone else in history - more than 210 million people, in more than 185 countries and territories through various meetings, including Mission World and Global Mission.
Today Billy Graham and his ministry are known around the globe. He has preached in remote African villages and in the heart of New York City, and those to whom he has ministered have ranged from heads of state to the simple living bushmen of Australia and the wandering tribes of Africa and the Middle East.
Since 1977, Dr. Graham has been accorded the opportunity to conduct preaching missions in virtually every country of the former Eastern bloc, including the former Soviet Union. Born William Franklin Graham, Jr., in Charlotte, North Carolina, in 1918, he entered the ministry in 1943 and soon began conducting evangelistic crusades. In 1950, he founded The Billy Graham Evangelistic Association, which has sponsored crusades and produced radio and television programs as well as films.
Dr. Graham has written 24 books, many of which have become top sellers. His autobiography, Just As I Am, published in 1997, achieved a "triple crown," appearing simultaneously on the three top best-seller lists in one week. Billy Graham has been honoured with many awards. He lives in Montreat, North Carolina. His wife Ruth passed away on June 14, 2007
-Publisher.