User Friendly Prophecy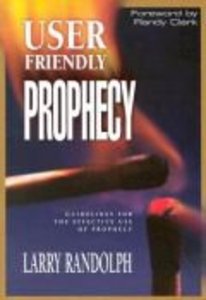 Do you believe you've been given the gift of prophecy? Do you wonder about the role of prophecy in today's church? This practical handbook will help you understand the biblical validity of prophecy, demonstrate how prophecy has changed since the New Covenant, and give you guidelines for the proper use of this gift today.

- Publisher Hey Now you can learn the basics of prophecy and how to prophesy in a book that's written for you Whether you're a novice or a seasoned believer, this book will stir up the prophetic girl God placed inside you and encourage you to step out in it.

- Publisher
You May Also Be Interested In
About "User Friendly Prophecy"
Do you believe you've been given the gift of prophecy? Do you wonder about the role of prophecy in today's church? This practical handbook will help you understand the biblical validity of prophecy, demonstrate how prophecy has changed since the New Covenant, and give you guidelines for the proper use of this gift today.
- Publisher

Hey Now you can learn the basics of prophecy and how to prophesy in a book that's written for you Whether you're a novice or a seasoned believer, this book will stir up the prophetic girl God placed inside you and encourage you to step out in it.
- Publisher


Meet the Author
Larry Randolph
John Randolph is director of the School of Public & International Affairs and professor of environmental planning at Virginia Polytechnic Institute and State University. He is the author of "Environmental Land Use Planning and Management" (Island Press, 2003). In 2006, he was awarded the William R. and June Dale Prize for Excellence in Urban and Regional Planning. ýGilbert M. Masters is professor of civil and environmental engineering (emeritus) at Stanford University. He is the author of six books, including the widely used textbook "Introduction to Environmental Engineering and Science,"