Valley of Decision (The Carthage Chronicles Series)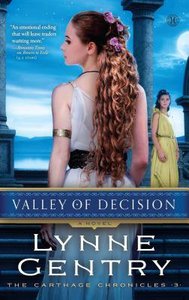 Every choice has a consequence in the explosive conclusion to the Carthage Chronicles as Lisbeth returns to third-century Carthage for a thrilling final adventure.

Thirteen years ago, Lisbeth made an impossible decision-leave third-century Carthage and her husband Cyprian behind for good. She knew it was to protect her daughter Maggie, so Lisbeth gathered the strength to move on with her life.

All these years, Lisbeth has thrown herself into her work and raising her headstrong daughter, all to live up to the promise she made to Cyprian. But Maggie is sick of being protected. In an act of teenage rebellion Maggie decides to do what her mother can't-secretly returning to the third century on a quest to bring her father back, leaving Lisbeth no choice but to follow.

With Maggie's surprise arrival in Carthage, chaos ensues. She finds her grandmother on trial for murder and attempts to save her, but instead the diversion sparks a riot that nearly destroys the plagued city. Only one thing will appease the wrath of the new proconsul of Carthage: the death of the instigator.

Will Lisbeth arrive in time to save her daughter from the clutches of Rome? How can God possibly redeem such a slew of unwise decisions and deep regrets? Filled with heart-wrenching twists and riveting action, Valley of Decision brings the romantic adventure epic, The Carthage Chronicles, to an electrifying conclusion.

- Publisher
You May Also Be Interested In
About "Valley of Decision (The Carthage Chronicles Series)"
Every choice has a consequence in the explosive conclusion to the Carthage Chronicles as Lisbeth returns to third-century Carthage for a thrilling final adventure.

Thirteen years ago, Lisbeth made an impossible decision-leave third-century Carthage and her husband Cyprian behind for good. She knew it was to protect her daughter Maggie, so Lisbeth gathered the strength to move on with her life.

All these years, Lisbeth has thrown herself into her work and raising her headstrong daughter, all to live up to the promise she made to Cyprian. But Maggie is sick of being protected. In an act of teenage rebellion Maggie decides to do what her mother can't-secretly returning to the third century on a quest to bring her father back, leaving Lisbeth no choice but to follow.

With Maggie's surprise arrival in Carthage, chaos ensues. She finds her grandmother on trial for murder and attempts to save her, but instead the diversion sparks a riot that nearly destroys the plagued city. Only one thing will appease the wrath of the new proconsul of Carthage: the death of the instigator.

Will Lisbeth arrive in time to save her daughter from the clutches of Rome? How can God possibly redeem such a slew of unwise decisions and deep regrets? Filled with heart-wrenching twists and riveting action, Valley of Decision brings the romantic adventure epic, The Carthage Chronicles, to an electrifying conclusion.
- Publisher


Meet the Author
Lynne Gentry
Lynne Gentry" "was a finalist in Westbow's 2010 fiction contest. She is a member of the American Christian Fiction Writers (ACFW), and three of her novels have been selected as finalists for the ACFW Genesis contest. Lynne is a pastor's wife and the mother of two grown children.
Other Titles In The "The Carthage Chronicles" Series View All