Values-Driven Leadership (2nd Edition)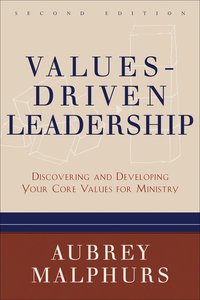 What are the core values of your ministry?

Values-Driven Leadership is a pioneering work designed to help church and parachurch leaders understand the cutting-edge concept of organizational core values. Every ministry organization has a set of core values that guides what the ministry seeks to accomplish. Understanding and implementing these core values is key to a high-performing ministry.

In this revised edition, Aubrey Malphurs offers important insights on new research in the field of leadership and delineates techniques for implementing those insights in practical ways. After exploring the concepts in Values-Driven Leadership, you'll be able to take concrete steps to write your ministry's values in a credo or values statement and focus in on your mission. This edition includes

- Helpful discussion questions
- Core values audits
- A readiness-for-change inventory to help you and your ministry identify areas in need of attention
- The latest research on values
- New insights into the differences between values and beliefs.

This is a useful book for individuals, boards, committees, and leadership teams.

- Publisher
You May Also Be Interested In
About "Values-Driven Leadership (2nd Edition)"
What are the core values of your ministry?

Values-Driven Leadership is a pioneering work designed to help church and parachurch leaders understand the cutting-edge concept of organizational core values. Every ministry organization has a set of core values that guides what the ministry seeks to accomplish. Understanding and implementing these core values is key to a high-performing ministry.

In this revised edition, Aubrey Malphurs offers important insights on new research in the field of leadership and delineates techniques for implementing those insights in practical ways. After exploring the concepts in Values-Driven Leadership, you'll be able to take concrete steps to write your ministry's values in a credo or values statement and focus in on your mission. This edition includes

- Helpful discussion questions
- Core values audits
- A readiness-for-change inventory to help you and your ministry identify areas in need of attention
- The latest research on values
- New insights into the differences between values and beliefs.

This is a useful book for individuals, boards, committees, and leadership teams.
- Publisher


Meet the Author
Aubrey Malphurs
Aubrey Malphurs (Ph.D., Dallas Theological Seminary) is president of Vision Ministries International and chairman of the Field Education Department at Dallas Theological Seminary. He has served as a pastor and church planter and is the author of numerous books in the areas of leadership, vision, and church ministry, including Ministry Nuts and Bolts: What They Don't Teach Pastors in Seminary; Doing Church; and Developing a Dynamic Mission for Your Ministry.