Vanished (#01 in Private Justice Series)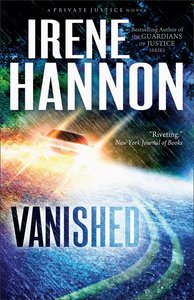 Reporter Moira Harrisons is lost. In the dark. In a thunderstorm. When a confusing detour places her on a rural, wooded road, she's startled by the sudden appearance of a lone figure caught in the beam of her headlights. Though Moira jams on her brakes, the car careens across the wet pavement--and the solid thump against the side of the vehicle tells her she hit the person before she crashes into a tree on the far side of the road.

A dazed Moira is relieved when a man opens her door, tells her he saw everything, and promises to call 911. Then everything fades to black. When she comes to an hour later, she is alone. No man. No 911. No injured person lying on the side of the road. But she can't forget the look of terror she saw on the person's face in the instant before her headlights swung away. The person she hit had been in trouble. She's sure of it. But she can't get anyone to believe her story--except a handsome former police detective, now a private eye, who agrees to take on the case.

From the very first page, readers will be hooked into this fast-paced story full of shocking secrets from fan-favorite Irene Hannon. Vanished is the exciting first book in the Private Justice series: Three justice seekers who got burned playing by the rules now have a second chance to make things right.

- Publisher
You May Also Be Interested In
About "Vanished (#01 in Private Justice Series)"
Reporter Moira Harrisons is lost. In the dark. In a thunderstorm. When a confusing detour places her on a rural, wooded road, she's startled by the sudden appearance of a lone figure caught in the beam of her headlights. Though Moira jams on her brakes, the car careens across the wet pavement--and the solid thump against the side of the vehicle tells her she hit the person before she crashes into a tree on the far side of the road.

A dazed Moira is relieved when a man opens her door, tells her he saw everything, and promises to call 911. Then everything fades to black. When she comes to an hour later, she is alone. No man. No 911. No injured person lying on the side of the road. But she can't forget the look of terror she saw on the person's face in the instant before her headlights swung away. The person she hit had been in trouble. She's sure of it. But she can't get anyone to believe her story--except a handsome former police detective, now a private eye, who agrees to take on the case.

From the very first page, readers will be hooked into this fast-paced story full of shocking secrets from fan-favorite Irene Hannon. Vanished is the exciting first book in the Private Justice series: Three justice seekers who got burned playing by the rules now have a second chance to make things right.
- Publisher


Meet the Author
Irene Hannon
Irene Hannon is the bestselling and award-winning author of more than fifty novels, including Buried Secrets and Thin Ice, as well as the Heroes of Quantico, Guardians of Justice, and Private Justice series. In addition to many other honors, she is a seven-time finalist for and three-time winner of the prestigious RITA Award from Romance Writers of America. She is also a member of RWA's elite Hall of Fame. Learn more at www.irenehannon.
Customer Reviews For "Vanished (#01 in Private Justice Series)"
Write Your Own Review
Captivating
By Tracey,

Aug 03 2016
A great read of suspense as always from Irene. The two main characters have issues that should keep them apart, but of course they are on their way to being happily married by stories end. Apart from the predictable romance, the crime is actually well written and keeps you on edge and wondering just what is going on that is worth keeping a secret! 
---
An enjoyable read
By Alyce,

Nov 29 2015
A great mix between easy reading and suspense. The twists and ending were quite predictable but the storyline was still interesting. Not my favourite book by this author but definitely worth a read.
---
No Vanishing Here
By Jessica R Wakefield,

Jan 07 2013
Ever since I ploughed through Irene Hannon's previous six books in the Romance Suspense Genre, I've been really keen to read Vanished and I wasn't disappointed. 

First off everything about this book is more subtle - the action, romance, faith, even the crimes being committed is subtle  - but it holds the reader's attention. As the mystery slowly unravels regarding Moira's vanishing good Samaritan and the lone figure on the road we see puzzle pieces fit into place. It was really fun trying to figure out where the mystery was going and how it all came together. During this time we see Moira and Cal get to know each other. 

Elements of faith is included but not touched on in any depth, rather it is shown through Cal's value of justice and Moira's value on truth. Together, readers can get an idea of what values God holds.

What I really loved was the romance between Moira and Cal. The chemistry was there, but Hannon held back, just a whisper of a touch here and there. Keeping Moria and Cal from crossing the professional line during the case was wonderfully done. It made me really appreciate the relationship they had built up over the course of the novel.

Overall, the book really grabbed my attention because it quietly revealed itself as the pages went by, quietly telling its story and entrancing me from beginning to end. 

I'm looking forward to reading more in the Private Justice Series.
---
Good Start to New Series
By Iola,

Jan 02 2013
Journalist Moira Harrison is driving home from an interview along a strange road in a storm when she hits a woman standing in the path of her car. She spins off the road and almost immediately a man comes to check she is all right and says he will call 911. But she loses consciousness and when she wakes, there is no sign of either the man or the woman.

Worried, she enlists the help of private detective Cal Burke, of Phoenix Inc., to help her find the woman. Cal is a widower who, five years after the death of his wife, is still having trouble moving on. He is no longer mourning, but doesn't seem to know how to move forward. Moira is man-shy after finding her fianc was cheating on her. So although they are attracted to each other, they both have histories to get past before thinking of a relationship.

This is the first book in Irene Hannon's new Private Justice series. I really enjoyed her Heroes of Quantico trilogy, but found the Guardians of Duty trilogy to be very much the same. I was hoping that Vanished and Private Justice will see Hannon return to form. It's better, but the romance has an air of predictability about it and the Christian elements are very understated, which combine to make Vanished good, but not great. Anyone looking for a light, clean romantic suspense should enjoy Vanished.

Thanks to Revell and NetGalley for providing a free ebook for review. 
{{review.title}}
By {{review.author.name}},

{{review.reviewCreatedDate | date:'MMM dd yyyy'}}

{{reviewdescription}}
{{review.text}}
---
Other Titles In The "Private Justice Series" Series