Vanishing Point (#04 in Nikki Boyd Files Series)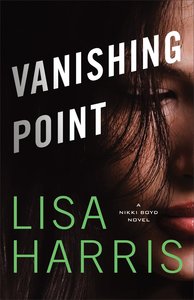 During Garrett Addison's first week on the job as a criminal investigator for the Tennessee Bureau of Investigation, his team is called out to a murder scene of a young girl. She's the third victim in a string of disappearances with one thing in common--a Polaroid photo of each victim left behind at the crime scene.

The FBI is pulled into the case to help, and Garrett finds himself working with Special Agent Jordan Lambert, the woman he once loved. When yet another girl dies--number six--Garrett blames himself and believes he doesn't have what it takes to be an agent. What he'll discover is that, while he may be done with the killer, the killer is not done with him--or Jordan.

Bestselling and award-winning author Lisa Harris unveils an unforgettable story of a case that has haunted the public and law enforcement for more than a decade. Fans of the Nikki Boyd Files will thrill to finally discover what actually happened to Nikki's sister, Sarah. New readers will become instant fans after devouring this chilling tale.

- Publisher
You May Also Be Interested In
About "Vanishing Point (#04 in Nikki Boyd Files Series)"
During Garrett Addison's first week on the job as a criminal investigator for the Tennessee Bureau of Investigation, his team is called out to a murder scene of a young girl. She's the third victim in a string of disappearances with one thing in common--a Polaroid photo of each victim left behind at the crime scene.

The FBI is pulled into the case to help, and Garrett finds himself working with Special Agent Jordan Lambert, the woman he once loved. When yet another girl dies--number six--Garrett blames himself and believes he doesn't have what it takes to be an agent. What he'll discover is that, while he may be done with the killer, the killer is not done with him--or Jordan.

Bestselling and award-winning author Lisa Harris unveils an unforgettable story of a case that has haunted the public and law enforcement for more than a decade. Fans of the Nikki Boyd Files will thrill to finally discover what actually happened to Nikki's sister, Sarah. New readers will become instant fans after devouring this chilling tale.
- Publisher


Meet the Author
Lisa Harris
Award-winning author, Lisa Harris, has been writing both fiction and nonfiction since 2000, and has more than fifteen novels and novellas in print. She and her family have spent many years working as missionaries in Africa where she runs a small non-profit organization that works alongside their church-planting ministry. The ECHO Project promotes Education, Compassion, Health, and Opportunity and is a way to "speak up for those who cannot speak for themselves...the poor and helpless, and see that they get justice." (Proverbs 31:8)

When Lisa is not working she loves hanging out with her family, cooking different ethnic dishes, photography, and heading into the African bush on safari. For more information about her books and life in Africa visit her website at www.lisaharriswrites.com .
Other Titles In The "Nikki Boyd Files Series" Series View All