Verity (The Sugar Baron's Daughters Book #2) (#02 in Sugar Baron's Daughters Series)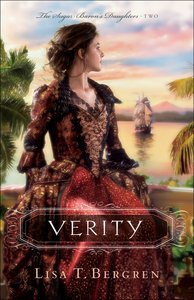 After leaving England behind for a new life in the West Indies with her sisters, Verity Banning wants something to call her own. Her affinity for animals inspires her to set up a business importing horses, as well as other goods in demand by the island residents. But when she arrives in the Colonies to purchase her goods, unexpected news of Captain Duncan McKintrick awaits her--as does the captain's handsome brother, Ian--whose sympathies lie with the fledgling Patriot cause.

As the great-granddaughter of a British general and friend to many Loyalists, Verity believed all she wanted was a peaceful resolution. But both the Patriots and the impassioned Ian McKintrick are steadily laying claim to her heart. When faced with the decision of what--and for whom--she will fight, can she set her feet on a new path despite the danger that awaits?

- Publisher
Also Available In
You May Also Be Interested In
About "Verity (The Sugar Baron's Daughters Book #2) (#02 in Sugar Baron's Daughters Series)"
After leaving England behind for a new life in the West Indies with her sisters, Verity Banning wants something to call her own. Her affinity for animals inspires her to set up a business importing horses, as well as other goods in demand by the island residents. But when she arrives in the Colonies to purchase her goods, unexpected news of Captain Duncan McKintrick awaits her--as does the captain's handsome brother, Ian--whose sympathies lie with the fledgling Patriot cause.

As the great-granddaughter of a British general and friend to many Loyalists, Verity believed all she wanted was a peaceful resolution. But both the Patriots and the impassioned Ian McKintrick are steadily laying claim to her heart. When faced with the decision of what--and for whom--she will fight, can she set her feet on a new path despite the danger that awaits?
- Publisher


Meet the Author
Lisa Tawn Bergren
Lisa Tawn Bergren is the author of the children's books "God Gave us You" and its sequel "God Gave us Two", as well as several adult novels. She lives in Colorado Springs, CO with her children and husband.
Other Titles In The "Sugar Baron's Daughters" Series