Vero Rising (#01 in The Ether Novel Series)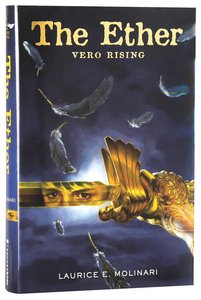 Lately strange happenings begin to plague the everyday suburban life of 12-year-old Vero Leland. To the surprise of his classmates and himself, while running track and field, Vero effortlessly clears two hurdles at a time. He sees hideous frightening creatures that no one else can see. But it's when he views his imprint after making a snow angel; he can no longer deny he's different. Because after sweeping his limbs across the fresh snow, there, in the snowy depression lays the impression of two massive wings so beautiful Michelangelo could have fashioned them himself! Only when a stranger takes him to the 'Ether,' does Vero finally understand whom he is. The Ether, a concept theorized by the ancient Greeks, and later hypothesized by scientists like Sir Isaac Newton, is the spiritual realm that surrounds the earth. It is there that Vero learns he is, indeed, a budding guardian angel - the fiercest of all warriors. Under the tutelage of the mighty archangels, Vero, along with several other young angels, begins his training. The training is intense as he learns to fly and battles mythological Biblical creatures from the Leviathan to the golems to prove his worth... as he's constantly reminded; only a select few make the cut. Even tougher for Vero is that until his training in the Ether is completed, he must continue his life on earth as an average boy where he often falls prey to school bullies and his own insecurities around 12-year-old girls. But ultimately, Vero is fated to play a decisive role in the war of good versus evil and fulfill his destiny.

- Publisher
You May Also Be Interested In
About "Vero Rising (#01 in The Ether Novel Series)"
Lately strange happenings begin to plague the everyday suburban life of 12-year-old Vero Leland. To the surprise of his classmates and himself, while running track and field, Vero effortlessly clears two hurdles at a time. He sees hideous frightening creatures that no one else can see. But it's when he views his imprint after making a snow angel; he can no longer deny he's different. Because after sweeping his limbs across the fresh snow, there, in the snowy depression lays the impression of two massive wings so beautiful Michelangelo could have fashioned them himself! Only when a stranger takes him to the 'Ether,' does Vero finally understand whom he is. The Ether, a concept theorized by the ancient Greeks, and later hypothesized by scientists like Sir Isaac Newton, is the spiritual realm that surrounds the earth. It is there that Vero learns he is, indeed, a budding guardian angel - the fiercest of all warriors. Under the tutelage of the mighty archangels, Vero, along with several other young angels, begins his training. The training is intense as he learns to fly and battles mythological Biblical creatures from the Leviathan to the golems to prove his worth... as he's constantly reminded; only a select few make the cut. Even tougher for Vero is that until his training in the Ether is completed, he must continue his life on earth as an average boy where he often falls prey to school bullies and his own insecurities around 12-year-old girls. But ultimately, Vero is fated to play a decisive role in the war of good versus evil and fulfill his destiny.
- Publisher


Meet the Author
Laurice Elehwany Molinari
Laurice Elehwany Molinari, a veteran film and TV writer in Hollywood for over two decades, has penned over thirty scripts for the studios and networks. Her very first feature script, written while a fellow at the American Film Institute, became Columbia Picture's critically acclaimed children's classic, MY GIRL.Laurice lives with her husband and two children in Los Angeles, the City of Angels, where her life long love for our heavenly guardians inspired her to write a book about them. This is her first novel..
Other Titles In The "The Ether Novel Series" Series View All