View From the Faraway Pagoda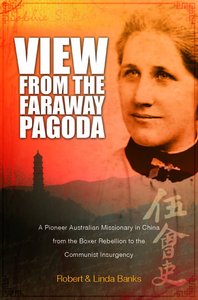 This book describes the life and service of an inspiring woman, Sophie Newton, whose desire to serve God led her to the forefront of missionary work in south-east China from 1897 to 1931. She lived through the tumultuous events of the Boxer Rebellion and Nationalist Revolution, as well as warlord conflicts and early communist uprisings.Sophie spent her life empowering women through establishing schools and training Christian workers, as well as opposing the opium trade and challenging the practices of foot binding and infanticide.Drawing on a wide range of family journals, personal letters, official records and newspaper reports, this story describes how the conviction, sacrifice and compassion of one single-minded woman can make a real and lasting difference to a community.

- Publisher
You May Also Be Interested In
About "View From the Faraway Pagoda"
This book describes the life and service of an inspiring woman, Sophie Newton, whose desire to serve God led her to the forefront of missionary work in south-east China from 1897 to 1931. She lived through the tumultuous events of the Boxer Rebellion and Nationalist Revolution, as well as warlord conflicts and early communist uprisings.Sophie spent her life empowering women through establishing schools and training Christian workers, as well as opposing the opium trade and challenging the practices of foot binding and infanticide.Drawing on a wide range of family journals, personal letters, official records and newspaper reports, this story describes how the conviction, sacrifice and compassion of one single-minded woman can make a real and lasting difference to a community.
- Publisher


Meet the Authors
Robert Banks
Robert Banks (Ph.D.,University of Cambridge), was director and dean of Macquarie Christian Studies Institute in Sydney, Australia, and former Professor of Laity and founding director of the new De Pree Center for Leadership at Fuller Theological Seminary. He is the author of many books, including Redeeming the Routines, God the Worker, Faith Goes to Work, The Tyranny of Time, Paul's Idea of Community, and he teamed up with another leading author in the field of applying Christianity to everyday life, R. Paul Stevens of Regent College-Vancouver, to produce one of the top five volumes in the whole field, The Complete Book of Everyday Christianity. Together with his wife Linda - also an author, as well as an experienced teacher and chaplain - Robert enjoys visiting and learning about other places and cultures, most recently China.
Linda Banks
Linda Banks has worked as a teacher, pastor and chaplain in churches, universities and other educational institutions. Together with her husband Robert, she has co-authored a range of creative Christian resources. Robert and Linda also enjoy visiting and learning about other places and cultures, most recently China.