Violence, Hospitality, and the Cross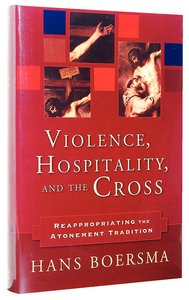 The cross is central to any understanding of Christian theology. But what is the primary significance of the cross: God's victory over death and hell? The moral example of a righteous sufferer? God's Son taking the punishment for the world's sin? Or is it possible that in our postmodern setting these traditional views of the atonement are irrelevant and outmoded?

In this important study, Hans Boersma proposes an understanding of the atonement that is sensitive both to the Christian tradition and to postmodern critiques of that tradition.

Throughout his work, Boersma takes seriously the critics of traditional atonement theology. He also acknowledges a certain paradoxical tension between violence and hospitality that will remain a mystery. Nevertheless, he offers a substantial response in the form of an alternative account of violence that also reenvisions the atonement as divine hospitality.

In the first section, Boersma considers the basic theological issues as well as the postmodern critique. He also addresses the question of election and proposes a biblical vision of "preferential hospitality." In the second section, Boersma embraces the three historical views of the atonement and suggests that the "recapitulation" theory of Irenaeus is most compatible with the metaphor of divine hospitality. The third section looks at the church as the community of God's hospitality, both in its role as the continuing presence of Christ in the world and as a proponent of public justice.

This is an important contribution to contemporary theology. In light of current criticisms, Boersma offers a new model for looking at the atonement that draws on the rich resources of the Christian tradition in its portrayal of God's hospitality in Jesus Christ.


- Publisher 288 Pages

- Publisher Taking seriously contemporary critiques of traditional atonement theology, Boersma argues that the cross is the ultimate expression of divine hospitality.

- Publisher
You May Also Be Interested In
About "Violence, Hospitality, and the Cross"
The cross is central to any understanding of Christian theology. But what is the primary significance of the cross: God's victory over death and hell? The moral example of a righteous sufferer? God's Son taking the punishment for the world's sin? Or is it possible that in our postmodern setting these traditional views of the atonement are irrelevant and outmoded?

In this important study, Hans Boersma proposes an understanding of the atonement that is sensitive both to the Christian tradition and to postmodern critiques of that tradition.

Throughout his work, Boersma takes seriously the critics of traditional atonement theology. He also acknowledges a certain paradoxical tension between violence and hospitality that will remain a mystery. Nevertheless, he offers a substantial response in the form of an alternative account of violence that also reenvisions the atonement as divine hospitality.

In the first section, Boersma considers the basic theological issues as well as the postmodern critique. He also addresses the question of election and proposes a biblical vision of "preferential hospitality." In the second section, Boersma embraces the three historical views of the atonement and suggests that the "recapitulation" theory of Irenaeus is most compatible with the metaphor of divine hospitality. The third section looks at the church as the community of God's hospitality, both in its role as the continuing presence of Christ in the world and as a proponent of public justice.

This is an important contribution to contemporary theology. In light of current criticisms, Boersma offers a new model for looking at the atonement that draws on the rich resources of the Christian tradition in its portrayal of God's hospitality in Jesus Christ.

- Publisher

288 Pages
- Publisher

Taking seriously contemporary critiques of traditional atonement theology, Boersma argues that the cross is the ultimate expression of divine hospitality.
- Publisher


Meet the Author
Hans Boersma
Hans Boersma (Th.D., University of Utrecht) holds the J. I. Packer Chair of Theology at Regent College in Vancouver, British Columbia. He is the author or editor of several books, including A Hot Pepper Corn: Richard Baxter's Doctrine of Justification in its Seventeenth-Century Context of Controversy; Nouvelle Thologie and Sacramental Ontology: A Return to Mystery and Violence; Hospitality, and the Cross: Reappropriating the Atonement Tradition, which won the 2005 Christianity Today Book Award in theology/ethics, and Heavenly Participation: The Weaving of a Sacramental Tapestry.
Koorong -Editorial Review.