Virtue Reborn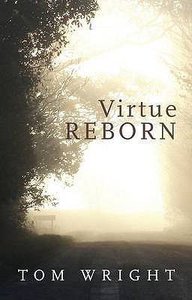 What am I here for? How should I behave? Most Christians, faced with those questions, think in terms either of 'rules' or of 'living authentically'. Both lead to problems.

In this book, full of fresh biblical exploration, Bishop Tom Wright proposes instead that we inhabit the ancient tradition of virtue once again - but from a thoroughly Christian, not just a philosophical, perspective. The virtues are the strengths we need to get to our goal. Following on from his popular best-selling books Simply Christian and Surprised by Hope, he sees the goal in terms of the whole new creation, with humans renewed to look after it.

"With characteristic verve and luminous clarity Tom Wright now brings his learning and insight to bear on the complex field of ethics. He slices through both old and new conundrums by using - and renewing - the ancient key of virtue and the transformed character. Here is deep Christian wisdom for a bewildered age."
- John Pritchard, Bishop of Oxford

- Publisher
You May Also Be Interested In
About "Virtue Reborn"
What am I here for? How should I behave? Most Christians, faced with those questions, think in terms either of 'rules' or of 'living authentically'. Both lead to problems.

In this book, full of fresh biblical exploration, Bishop Tom Wright proposes instead that we inhabit the ancient tradition of virtue once again - but from a thoroughly Christian, not just a philosophical, perspective. The virtues are the strengths we need to get to our goal. Following on from his popular best-selling books Simply Christian and Surprised by Hope, he sees the goal in terms of the whole new creation, with humans renewed to look after it.

"With characteristic verve and luminous clarity Tom Wright now brings his learning and insight to bear on the complex field of ethics. He slices through both old and new conundrums by using - and renewing - the ancient key of virtue and the transformed character. Here is deep Christian wisdom for a bewildered age."
- John Pritchard, Bishop of Oxford

- Publisher
- Koorong

Virtue Reborn is the first in a series of three titles about Christian life in the modern world, which will build on the themes of Simply Christian (SPCK 2006) and Surprised by Hope (SPCK 2007), and be aimed at a similar market.
- Publisher


Meet the Author
Tom Wright
N.T.(Tom) Wright (D.Phil., Oxford) has recently retired as Bishop of Durham, and is one of the most influential theologians in the world today. During his long and dynamic ministry career, Wright has successfully blended the roles of pastor, preacher, academic, and popular author. His prolific written output reaches a wide range of readers: his books The New Testament and the People of God; Jesus and the Victory of God; and The Resurrection of the Son of God are monumental works of New Testament scholarship, while his For Everyone commentary series brings the Bible alive for a popular audience. Wright is currently Research Professor of New Testament and Early Christianity at the University of St Andrews in Scotland.
Koorong -Editorial Review.