Vital Truth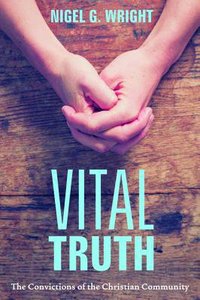 In this book Nigel Wright brings together the two concerns that have defined his ministry: the formation of healthy congregational life on the one side, and the considered articulation of Christian convictions on the other. In the belief that these two concerns are intimately related, he sets out the range of Christian convictions in a way intended to be accessible to church members who wish to clarify and deepen their understanding. The book is rooted in the belief that the resurrection of Christ is the central reality out of which all other Christian convictions emerge. Beginning at this point and in the belief that Christ is present in the community of believers, the book then explores Christian convictions about God, Christology, creation, salvation, election, evil, eschatology, and witness to the world.

- Publisher
You May Also Be Interested In
About "Vital Truth"
In this book Nigel Wright brings together the two concerns that have defined his ministry: the formation of healthy congregational life on the one side, and the considered articulation of Christian convictions on the other. In the belief that these two concerns are intimately related, he sets out the range of Christian convictions in a way intended to be accessible to church members who wish to clarify and deepen their understanding. The book is rooted in the belief that the resurrection of Christ is the central reality out of which all other Christian convictions emerge. Beginning at this point and in the belief that Christ is present in the community of believers, the book then explores Christian convictions about God, Christology, creation, salvation, election, evil, eschatology, and witness to the world.
- Publisher


Meet the Author
Nigel G Wright
Dr Nigel G. Wright (PhD FRSA) is Principal of Spurgeon's College, London and a former president of the Baptist Union of Great Britain
As a theologian Nigel has contributed significantly to the recovery of the Anabaptist tradition, to thinking about the church and its relationship to the state, to reflection on the theology of charismatic renewal and to the renewal of evangelicalism. He describes his current field as 'theology and ministry'.
A well-published author, his books include The Radical Kingdom: Restoration in Theory and Practice (1986), Challenge to Change: A Radical Agenda for Baptists (1991), Charismatic Renewal: The Search for a Theology (1995), The Radical Evangelical: Finding a Place to Stand (1996) and Disavowing Constantine: Mission Church and the Social Order in the theologies of John Howard Yoder and Jurgen Moltmann (2000).
His most recent books are New Baptists, New Agenda (2002), A Theology of the Dark Side (2003), God on the Inside (2006), Free Church, Free State: The Positive Baptist Vision(2005) and The Real Godsend (2009)
Koorong -Editorial Review.