Voices of Blood (#06 in Kinsman Chronicles Series)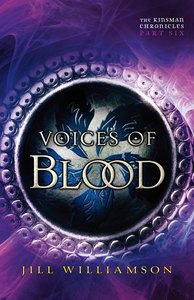 Part 6 of Jill Williamson's Epic Fantasy Series The Kinsman Chronicles

The unanticipated supernatural ability to hear each other's thoughts fills many Armanians with fear and embroils the Armanian people in a bitter conflict. Priests protest this "bloodvoicing" magic as evil, but Prince Wilek believes it a gift from the One God to his Armanite followers.

To honor his newfound faith, Prince Wilek establishes a city called Armanguard and begins building an illustrious castle. He sends explorers to the north to discover what this land might have to offer, putting his brother Trevn in charge of the expedition.

In the west, as spring comes and the ground softens, Charlon sets the Magonian people to planting evenroot and preparing for the long-prophesied uprising of their Deliverer, who they believe will crush the skulls of his enemies, turn their citadels to dust, and make Magonia the ruler of nations.

Voices of Blood is collected together with parts 4 and 5 in King's Blood.

- Publisher
You May Also Be Interested In
About "Voices of Blood (#06 in Kinsman Chronicles Series)"
Part 6 of Jill Williamson's Epic Fantasy Series The Kinsman Chronicles

The unanticipated supernatural ability to hear each other's thoughts fills many Armanians with fear and embroils the Armanian people in a bitter conflict. Priests protest this "bloodvoicing" magic as evil, but Prince Wilek believes it a gift from the One God to his Armanite followers.

To honor his newfound faith, Prince Wilek establishes a city called Armanguard and begins building an illustrious castle. He sends explorers to the north to discover what this land might have to offer, putting his brother Trevn in charge of the expedition.

In the west, as spring comes and the ground softens, Charlon sets the Magonian people to planting evenroot and preparing for the long-prophesied uprising of their Deliverer, who they believe will crush the skulls of his enemies, turn their citadels to dust, and make Magonia the ruler of nations.

Voices of Blood is collected together with parts 4 and 5 in King's Blood.
- Publisher


Meet the Author
Jill Williamson
Jill Williamson is a novelist, dreamer, and believer. Growing up in Alaska led to a love of books, and in 2010 her first novel, By Darkness Hid, won the Christy Award. She loves working with teenagers and gives writing workshops at libraries, schools, camps, and churches. Jill lives in Oregon with her husband and two children. Visit Jill online at www.jillwilliamson.com.
Other Titles In The "Kinsman Chronicles Series" Series View All