Wagered Heart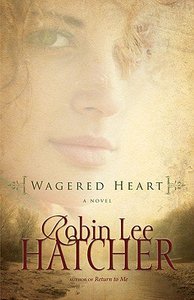 When Bethany Silverton left the genteel life of Miss Henderson's School for Young Ladies back in Philadelphia for the raw frontier town of Sweetwater, Montana, she had no idea how much she would enjoy the freedom and danger of this wild country. A conservative preacher's daughter, Bethany can't resist the challenge of charming the most attractive cowboy in town into attending her father's new church. She never dreamed that the cowboy would charm the lady. But Hawk Chandler isn't the only man vying for Bethany's affections. Ruthlessly ambitious Vince Richards thinks Bethany is perfect for him: attractive, gracious, just the woman to help him become governor. And he is determined to get what he wants at any cost. Drawn to one man, an obsession of another, Bethany's quiet life is thrown into turmoil. She wagered her heart on love. Now she has gotten more than she bargained for---and the stakes are about to become life and death.

- Publisher
You May Also Be Interested In
About "Wagered Heart"
When Bethany Silverton left the genteel life of Miss Henderson's School for Young Ladies back in Philadelphia for the raw frontier town of Sweetwater, Montana, she had no idea how much she would enjoy the freedom and danger of this wild country. A conservative preacher's daughter, Bethany can't resist the challenge of charming the most attractive cowboy in town into attending her father's new church. She never dreamed that the cowboy would charm the lady. But Hawk Chandler isn't the only man vying for Bethany's affections. Ruthlessly ambitious Vince Richards thinks Bethany is perfect for him: attractive, gracious, just the woman to help him become governor. And he is determined to get what he wants at any cost. Drawn to one man, an obsession of another, Bethany's quiet life is thrown into turmoil. She wagered her heart on love. Now she has gotten more than she bargained for---and the stakes are about to become life and death.
- Publisher


Meet the Author
Robin Lee Hatcher
Best-selling author Robin Lee Hatcher was born in 1951 and has written over 45 contemporary and historical novels. She has received numerous awards including the Christy Award for Excellence in Christian Fiction, the RITA Award for Best Inspirational Romance, and RWA's Lifetime Achievement Award. Her novel Catching Katie was named one of the Best Books of 2004 by the Library Journal. She is also the past President of Romance Writers of America, Inc. She currently lives in Boise, Idaho.