Walking From East to West: God in the Shadows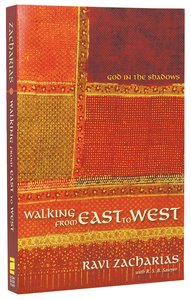 For over thirty-five years Ravi Zacharias has spoken all over the world in great halls and universities, notably Harvard, Princeton, and Oxford. He is listed as a distinguished lecturer with the Staley Foundation and has appeared on CNN and other international broadcasts. The author of several books for adults and children, he power-fully mixes biblical teaching and Christian apologetics. His most recent works include Walking from East to West, a memoir, The Grand Weaver, an exploration of God's intention and pattern in both the ordinary and the startling elements of life, and The End of Reason, a rebuttal to the claims of the so-called New Atheists. His weekly radio program, Let My People Think, is broadcast over 1,500 stations world-wide, and his weekday program, Just Thinking, on almost 400. He is founder and chairman of the board of Ravi Zacharias International Ministries, headquartered in Atlanta, Georgia, with additional offices in Canada, India, Singapore, the United Kingdom, and the United Arab Emirates. Dr. Zacharias and his wife, Margie, have three grown children and reside in Atlanta. Ravi Zacharias, master en divinidades de Trinity International University, es un orador reconocido asi como presidente de Ravi Zacharias International Ministries. Su programa semanal de radio, Let My People Think, se retransmite por mas de mil quinientas emisoras de todo el mundo. Es autor de varios libros para adultos y ninos. Su ultimo libro, De Oriente a Occidente, fue editado por Editorial Vida en el ano 2006. El Dr. Zacharias y su esposa residen in Atlanta, Georgia.

- Publisher For more than three decades, apologist Ravi Zacharias has shared bits and pieces of his personal life and experience. In Walking from East to West, now in softcover, Zacharias invites you to follow him on a journey through his life: to see and smell the neighborhood in India where he grew up, to feel a mother's love and the consternation of a harsh father ... and the lure of a rebellious soul. In a crisis experience, Zacharias exchanged pantheism for monotheism, and meaninglessness for true fulfillment in Christ. He has traveled from the East to the West, and then back again to answer skeptics' penetrating questions about the meaning of life and the existence of a God who is there for his children. Zacharias invites you to follow him on this journey through his life and into the lives of others, and to see how he has become more convinced with each year that Jesus Christ is the one who came to give you life to the fullest.

- Publisher
You May Also Be Interested In
About "Walking From East to West: God in the Shadows"
For over thirty-five years Ravi Zacharias has spoken all over the world in great halls and universities, notably Harvard, Princeton, and Oxford. He is listed as a distinguished lecturer with the Staley Foundation and has appeared on CNN and other international broadcasts. The author of several books for adults and children, he power-fully mixes biblical teaching and Christian apologetics. His most recent works include Walking from East to West, a memoir, The Grand Weaver, an exploration of God's intention and pattern in both the ordinary and the startling elements of life, and The End of Reason, a rebuttal to the claims of the so-called New Atheists. His weekly radio program, Let My People Think, is broadcast over 1,500 stations world-wide, and his weekday program, Just Thinking, on almost 400. He is founder and chairman of the board of Ravi Zacharias International Ministries, headquartered in Atlanta, Georgia, with additional offices in Canada, India, Singapore, the United Kingdom, and the United Arab Emirates. Dr. Zacharias and his wife, Margie, have three grown children and reside in Atlanta. Ravi Zacharias, master en divinidades de Trinity International University, es un orador reconocido asi como presidente de Ravi Zacharias International Ministries. Su programa semanal de radio, Let My People Think, se retransmite por mas de mil quinientas emisoras de todo el mundo. Es autor de varios libros para adultos y ninos. Su ultimo libro, De Oriente a Occidente, fue editado por Editorial Vida en el ano 2006. El Dr. Zacharias y su esposa residen in Atlanta, Georgia.
- Publisher

For more than three decades, apologist Ravi Zacharias has shared bits and pieces of his personal life and experience. In Walking from East to West, now in softcover, Zacharias invites you to follow him on a journey through his life: to see and smell the neighborhood in India where he grew up, to feel a mother's love and the consternation of a harsh father ... and the lure of a rebellious soul. In a crisis experience, Zacharias exchanged pantheism for monotheism, and meaninglessness for true fulfillment in Christ. He has traveled from the East to the West, and then back again to answer skeptics' penetrating questions about the meaning of life and the existence of a God who is there for his children. Zacharias invites you to follow him on this journey through his life and into the lives of others, and to see how he has become more convinced with each year that Jesus Christ is the one who came to give you life to the fullest.
- Publisher


Meet the Author
Ravi Zacharias
Frederick Anthony Ravi Kumar Zacharias was born into a nominally Christian (Anglican) Indian family in Madras in 1946, and grew up in Delhi. He was an atheist in his youth, but had a conversion experience after reading John 14:19 while recovering from a suicide attempt at age 17. Ravi emigrated with his family to Canada in 1966. He earned his M.Div. degree from Trinity International University, Deerfield, Illinois, in 1972.

Since 1971, when he first ministered to GIs and POWs in Vietnam, Ravi has spoken all over the world in great halls and universities including Harvard, Princeton, and Oxford.

He is listed as a distinguished lecturer with the Staley Foundation and has appeared on CNN and other international broadcasts.

The author of numerous books, he powerfully mixes biblical teaching and Christian apologetics. His weekly radio program, Let My People Think, is broadcast over 1,500 stations worldwide, and his weekday program, Just Thinking, began airing in November 2004. He is president of Ravi Zacharias International Ministries.

Some of his publications include Beyond Opinion: Living the Faith We Defend; The End of Reason; Walking from East to West; The Grand Weaver; Cries of The Heart; Recapture the Wonder: Experiencing God's Amazing Promise of Childlike Joy, and Jesus Among Other Gods: The Absolute Claims of the Christian Message.

Ravi has been married to his wife Margie since 1972, and they have three adult children.
Table Of Contents
Contents

Acknowledgments 9

Preface 11

Part 1: East

1. A Life Out Of Nothing 15

2. Long Shadows 29

3. Hidden Gold 41

4. My Father's House 51

5. The Cricket Field 63

6. Wedding Crashers And Ashes 75

7. The Raj Path And The Assigned Way 85

8. The Longest Shadow 101

9. A Book On The Ash Heap 109

10. Extraordinary Men 123

Part 2: East To West

11. The Girl In The Church 139

12. 'i Am Called To This' 151

13. The Longest Journey 173

14. Veritas 195

15. One Destination 211

Part 3: West To East

16. Returning: God In The Shadows 227
Excerpt
Excerpt from: Walking From East to West: God in the Shadows
Preface Some books are difficult to write; others border on the almost impossible. This one is in the latter category. Many friends and even strangers over the years have asked if I would pen such a story, and when Zondervan asked me to write a book of my memoirs, I concluded that the time had come. The difficulty lies on many fronts. First is that of accurate recall. How does one piece together all of the past? How does one be truly objective when one's own feelings are locked in to the situation? Then arises a very personal matter. How do you tell a story of such intimate issues and not at the same time make someone else look unduly bad or good? That was the toughest challenge of all. It is one thing for an individual to disclose his or her own heart, but to do so for someone else runs an unfortunate risk. If I have erred here, I sincerely hope it is not because of any personal ill will but only because I know the story did not end as it had begun. As I struggled with these issues, the publisher agreed to have me tell the story to another writer, who would spend hours with me and others to cull the material and then write it in the way it unfolded. I took the narrative he penned and wrote the story line in my own words, along with his. Throughout this process, the publisher asked if I would keep it at a simple level of reach and not make it inaccessible in content and depth. The goal was simple: 'Tell us your story in the simplest terms with your heart on your sleeve.' I suppose being accustomed to writing on philosophical themes, this was a reminder to me as 'a word to the wise.' So that has been the approach. Much more could have been said and said at a lofty level portraying all my philosophical struggles and so on. But we avoided that. Maybe some instances in the narrative 12 preface need not have been shared, but were in order to show the backdrop of what was shaping me all along. What I do know is that as I retraced steps and memories, some of them were hard to relive, while others brought a renewed sense of happiness; some memories brought the depth of tears to the surface, and yet others brought to mind cherished moments long forgotten. I have concluded that it is an exercise that is well undertaken by everybody --- to journal and write down one's thoughts at shorter intervals. Memories are good reminders of what God has done and where we could have done better. I remember the time an older man asked me when I was young, 'Do you know what you are doing now?' I thought it was some kind of trick question. 'Tell me,' I said. 'You are building your memories,' he replied, 'so make them good ones.' If each reader would glean just that from the book, then it will have been worth it. But there is something greater here, and it is this: as life progresses, you wish there were some safeguards you had taken along the way, and even some different decisions you had made along the way. For one, I wish I had talked more to my parents about their past and about my ancestors. What did they know? What were the stories of their lives? What made each one the way they were? Now it is too late for that, for my parents have both passed away. I nevertheless come away with the absolute certainty that God has ordered my steps and that God was there, even in the darkest moments of my life. I know this as surely as I know I exist. He never abandoned me and has brought me by His grace and mercy this far. This is the most certain truth I possess, and it is truly liberating. One other great enrichment was to think back on my youth in India, even as now the West has become home. India gave me much that I can never repay. It really is an intriguing culture --- weaknesses and ironies notwithstanding. Now living first in Canada and then in America, these countries have become home. I am so grateful to God for the privilege of living here. Beyond my residences, the heart has found its home in my faith and love for Jesus Christ. I sincerely hope and pray that as you read these pages, you will feel Him near to you and that you will be guided by His wisdom and kept by His grace. Without Him, this story would not be worth telling or reading. Part 1 East Chapter 1 A Life Out of Nothing One of my earliest memories is of the old man on my street, a mystic who wore only a loincloth. He was tall, with matted hair and piercing eyes, quite fearsome to look at. Mud was caked all over his bony frame, his face was scarred by deep gashes that were self-inflicted from his religious devotion, and his skin was burned by constant exposure to the torrid heat of the midday sun. 'How did he come to look like this?' I wondered as a boy. 'What had he done to himself?' I found out soon enough. Two or three times each week he would appear on our street; then, almost like a coiled rope unwinding, he would lie down on that filthy road and begin his routine. Cow dung and dog droppings littered the path, to say nothing of the stones or sharp objects that cluttered it as well, yet he would roll down the length of the street with a howl that sounded as if it came from the depths of a cavern. 'Govinda! Govinda! Govinda!' I had no clue what his cry was about --- I only knew it terrified me. It was an astonishing sight to a five-year-old, and I recall scampering to my mother and asking her, 'What is he doing? What is he doing?' 'He's OK,' she replied. 'Just ignore him.' 'But what is he doing?' I would implore. 'Why is he doing it?' 'He's calling to his god!' she said. That did not quench my curiosity. But I did not pursue it as long as he continued to roll away from me, and his voice became a faint but haunting sound in the distance: 'Govinda!'
Customer Reviews For "Walking From East to West: God in the Shadows"
Write Your Own Review
Informative
By Sam,

Dec 23 2015
This is a very interesting look into the religious and cultural thinking of Indian people. The author tells us candidly of his upbringing in Delhi and of his struggle to find the meaning of life. He realized later that God had been there especially in his darkest hour. He (and also his father) could never have imagined that one day he would be travelling the world as an evangelist and setting up his own mission organization.
{{review.title}}
By {{review.author.name}},

{{review.reviewCreatedDate | date:'MMM dd yyyy'}}

{{reviewdescription}}
{{review.text}}
---