Walking in the Footsteps of Jesus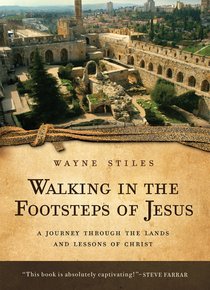 Imagine following Jesus along the road, listening in on his conversations, and gleaning from the lessons he taught in the holy places he traveled. Join author Wayne Stiles as he walks in the steps of Jesus: through Bethlehem, Samaria, Jerusalem, Nazareth, Galilee, and beyond. Experience the places where Jesus met a lonely woman in Samaria, a den of hypocrites in the Temple, a Jerusalem Pharisee still searching for truth, fishermen with a sea of false expectations, and a hometown ashamed of him. Entering the Holy land through the settings, sights, and sounds of Stiles's engaging travelogue, readers will not only discover more about these sacred places, but also learn practical lessons that will find their way into their hearts. And ultimately, prepare them for their own encounter with Christ.

- Publisher
You May Also Be Interested In
About "Walking in the Footsteps of Jesus"
Imagine following Jesus along the road, listening in on his conversations, and gleaning from the lessons he taught in the holy places he traveled. Join author Wayne Stiles as he walks in the steps of Jesus: through Bethlehem, Samaria, Jerusalem, Nazareth, Galilee, and beyond. Experience the places where Jesus met a lonely woman in Samaria, a den of hypocrites in the Temple, a Jerusalem Pharisee still searching for truth, fishermen with a sea of false expectations, and a hometown ashamed of him. Entering the Holy land through the settings, sights, and sounds of Stiles's engaging travelogue, readers will not only discover more about these sacred places, but also learn practical lessons that will find their way into their hearts. And ultimately, prepare them for their own encounter with Christ.
- Publisher


Meet the Author
Wayne Stiles
Wayne Stiles (Doctor of Ministry., Dallas Theological Seminary) has never recovered from his journeys to the Holy Land. His enthusiasm to communicate the practical applications from the Bible and its lands permeates his life.
After serving in the pastorate for fourteen years in the church he helped to plant, Wayne joined the staff at Insight for Living where he currently serves as an executive vice president.
A conference speaker, ordained minister, average guitarist, and woodworker wannabe, Wayne is a full-time husband to Cathy, and father to their two daughters. They reside in north Texas, with their Labrador Retriever, Ray-ah (Hebrew for companion) and he has authored Walking in the Footsteps of Jesus: A Journey through the Lands and Lessons of Christ (Regal Books, 2008) and Going Places With God: A Devotional Journey Through the Lands of the Bible (Regal Books, 2006).
-Editorial Review.