Walking on Water When You Feel Like You're Drowning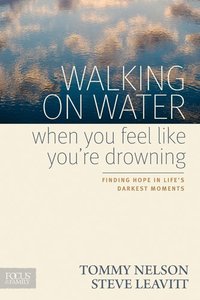 Today more people than ever are suffering from emotional distress. Whether they are dealing with depression, anxiety, obsessiveness, fear, worry, or stress, their lives are limited and compromised by the ill-effects. People who suffer from emotional distress often feel isolated and unloved, either by God or by others, and often believe that there is no hope and no way out.

There is good news, however! A truly biblical approach to healing emotional distress focuses on a holistic cure that integrates the mind, body, and spirit. Even when we feel truly alone, God is holding us in His hand. Even when we feel truly hopeless, God offers comfort and purpose. And even when we feel like we will never escape the pit of emotional distress, God sets our feet on firm ground and promises to never let us go. No matter what we have been through or what we are going through now, God can bring critically needed healing and transformation into our lives when we adjust what the authors refer to as ?stinkin? thinkin?.?

- Publisher
You May Also Be Interested In
About "Walking on Water When You Feel Like You're Drowning"
Today more people than ever are suffering from emotional distress. Whether they are dealing with depression, anxiety, obsessiveness, fear, worry, or stress, their lives are limited and compromised by the ill-effects. People who suffer from emotional distress often feel isolated and unloved, either by God or by others, and often believe that there is no hope and no way out.

There is good news, however! A truly biblical approach to healing emotional distress focuses on a holistic cure that integrates the mind, body, and spirit. Even when we feel truly alone, God is holding us in His hand. Even when we feel truly hopeless, God offers comfort and purpose. And even when we feel like we will never escape the pit of emotional distress, God sets our feet on firm ground and promises to never let us go. No matter what we have been through or what we are going through now, God can bring critically needed healing and transformation into our lives when we adjust what the authors refer to as ?stinkin? thinkin?.?
- Publisher


Meet the Authors
Tommy Nelson
Tommy Nelson has served as the pastor of Denton Bible Church, located in Denton, Texas, since 1977. He is also a best-selling author ("The Book of Romance, Better Love Now, A Life Well-Lived") and popular national marriage conference speaker. Nelson holds degrees in education and biblical studies and has been married to his wife Teresa for more than thirty years.