Walking the Small Group Tightrope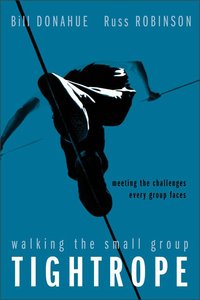 Six Ways to Improve Your Balance as a Group LeaderLeading a successful small group is like walking a tightrope. You traverse a taut, exciting line, balancing the dynamic tensions characteristic of every group. Drawing from the concept of "polarity management," Bill Donahue and Russ Robinson help you understand and deal with six dynamic areas every group leader must manage in order to create genuine, transforming small group community.Your group is in for unprecedented connection and growth when you harness the interplay between -Truth and Life-Care and Discipleship-Friendship and Accountability-Kindness and Confrontation-Task and People-Openness and IntimacyEffective, life-giving small groups learn how to embrace both ends of each continuum. Walking the Small Group Tightrope will strengthen your sense of balance, help you gain confidence as a leader, and show you how to release the untapped creative and relational energy in your group.

- Publisher At last there is a proven resource from Willow Creek created specifically for small group leaders, those who serve in the trenches of small group life and ministry.

- Publisher According to Donahue and Robinson, small groups cannot thrive by focusing on either end of the continuum--they must walk the center, holding both ends in healthy tension and charting a course that develops authentic community and facilitates life change.

- Publisher
You May Also Be Interested In
About "Walking the Small Group Tightrope"
Six Ways to Improve Your Balance as a Group LeaderLeading a successful small group is like walking a tightrope. You traverse a taut, exciting line, balancing the dynamic tensions characteristic of every group. Drawing from the concept of "polarity management," Bill Donahue and Russ Robinson help you understand and deal with six dynamic areas every group leader must manage in order to create genuine, transforming small group community.Your group is in for unprecedented connection and growth when you harness the interplay between -Truth and Life-Care and Discipleship-Friendship and Accountability-Kindness and Confrontation-Task and People-Openness and IntimacyEffective, life-giving small groups learn how to embrace both ends of each continuum. Walking the Small Group Tightrope will strengthen your sense of balance, help you gain confidence as a leader, and show you how to release the untapped creative and relational energy in your group.
- Publisher

At last there is a proven resource from Willow Creek created specifically for small group leaders, those who serve in the trenches of small group life and ministry.
- Publisher

According to Donahue and Robinson, small groups cannot thrive by focusing on either end of the continuum--they must walk the center, holding both ends in healthy tension and charting a course that develops authentic community and facilitates life change.
- Publisher


Meet the Authors
Bill Donahue
Dr. Bill Donahue (Ph.D., University of North Texas) is Executive Director of Small Group Ministries for the Willow Creek Association (WCA) and works with Willow Creek Community Church to train and develop small group leaders. The church has over 2,500 small groups and the WCA has over 12,000 member churches worldwide representing over 95 denominations in 27 countries.
He is the author of Leading Life-Changing Small Groups and coauthor of Building a Church of Small Groups, The 7 Deadly Sins of Small Group Ministry and Walking the Small Group Tightrope (all with Russ Robinson). With Greg Bowman he is the author of Coaching Life-Changing Leaders. He has also written In the Company of Jesus and the Jesus 101 small group study series (with Keri Wyatt Kent).
Russ Robinson
Russ Robinson, formerly executive director of small groups at Willow Creek and senior pastor of Meadowbrook Church in North Haledon, New Jersey, is coauthor with Bill Donahue of The Seven Deadly Sins of Small Group Ministry. He continues to speak and write while practicing law in Hoffman Estates, Illinois. SPANISH BIO: Russ Robinson, abogado de Hoffman Estates, Illinois, fue pastor principal de Meadowbrook Church en North Haledon, Nueva Jersey. Y con anterioridad fue director de ministerios y grupos pequenos en Willow creek Community Church. Es coautor con Bill Donahue del libro titulado Build