Walking Wisely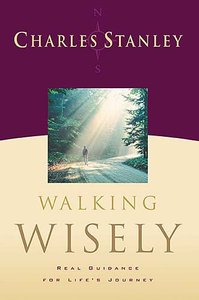 < p> In Scripture, wisdom is portrayed as a most important treasure, something to be sought after with consistent discipline. We, as Christians, tend to think of wisdom as something to be attained-an ideal to which we aspire. Charles Stanley contends that genuine wisdom is evidenced in < em> how we live< /em> . The truly wise person is one whose values, perspectives, career goals, and daily decisions are all shaped by the wisdom found in Christ.< br> < /p> < p> Choosing to live according to Biblical precepts is a lifestyle foreign to the worldly patterns among which we live. Inevitably, there will be clashes between the wisdom of God and that of the world. Dr. Stanley teaches how to apply God's wisdom as we handle finances, relate to others, care for our physical health, and carry out day-to-day duties. This significant volume presents a way of living that embodies wisdom from above.< br> < /p>

- Publisher
You May Also Be Interested In
About "Walking Wisely"
< p> In Scripture, wisdom is portrayed as a most important treasure, something to be sought after with consistent discipline. We, as Christians, tend to think of wisdom as something to be attained-an ideal to which we aspire. Charles Stanley contends that genuine wisdom is evidenced in < em> how we live< /em> . The truly wise person is one whose values, perspectives, career goals, and daily decisions are all shaped by the wisdom found in Christ.< br> < /p> < p> Choosing to live according to Biblical precepts is a lifestyle foreign to the worldly patterns among which we live. Inevitably, there will be clashes between the wisdom of God and that of the world. Dr. Stanley teaches how to apply God's wisdom as we handle finances, relate to others, care for our physical health, and carry out day-to-day duties. This significant volume presents a way of living that embodies wisdom from above.< br> < /p>
- Publisher


Meet the Author
Charles F Stanley
Dr. Charles F. Stanley is founder and president of In Touch Ministries, which is broadcast on both television and radio around the world in eighty languages. He has also been the senior pastor of the 15,000-member First Baptist Church in Atlanta, Georgia, for more than thirty years. Dr. Stanley received his bachelor of arts degree from the University of Richmond, his bachelor of divinity degree from Southwestern Theological Seminary, and his master's and doctor's degrees from Luther Rice Seminary. He has twice been elected president of the Southern Baptist Convention and is the author of many books, including God Is in Control, Seeking His Face, Walking Wisely, When the Enemy Strikes, Success God's Way, and How to Listen to God.- Publisher.