Walking With Frodo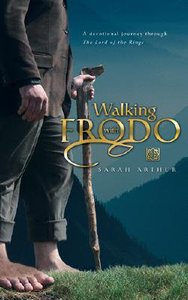 Tolkien's LORD OF THE RINGS epic tale has long captivated readers with its parallels to biblical truth. WALKING WITH FRODO looks at the biblical themes found in the classic LORD OF THE RINGS trilogy. The 18 devotions pair vices and virtues (deception vs. honesty, light vs. darkness, good vs. evil) displayed by characters in LORD OF THE RINGS and bring to light what the Bible has to say. A must-have for longtime and new series fans.


- Publisher 220 Pages

- Publisher J.R.R. Tolkien was a believer in Christ who wove his faith into his writing. His heroes fight a war against the forces of darkness -- a war in which every decision counts. Walking with Frodo leads you through nine pairs of choices -- darkness or light, betrayal or loyalty, deception or honesty, to name just a few -- and reveals what the Bible has to say about each. This devotional will help you apply those truths to decisions you make every day, sending you on a life-changing journey of your own. Are you ready for the challenge? Book jacket.

- Publisher
You May Also Be Interested In
About "Walking With Frodo"
Tolkien's LORD OF THE RINGS epic tale has long captivated readers with its parallels to biblical truth. WALKING WITH FRODO looks at the biblical themes found in the classic LORD OF THE RINGS trilogy. The 18 devotions pair vices and virtues (deception vs. honesty, light vs. darkness, good vs. evil) displayed by characters in LORD OF THE RINGS and bring to light what the Bible has to say. A must-have for longtime and new series fans.

- Publisher

220 Pages
- Publisher

J.R.R. Tolkien was a believer in Christ who wove his faith into his writing. His heroes fight a war against the forces of darkness -- a war in which every decision counts. Walking with Frodo leads you through nine pairs of choices -- darkness or light, betrayal or loyalty, deception or honesty, to name just a few -- and reveals what the Bible has to say about each. This devotional will help you apply those truths to decisions you make every day, sending you on a life-changing journey of your own. Are you ready for the challenge? Book jacket.
- Publisher


Meet the Author
Sarah Faulman Arthur
Arthur earned a bachelor of arts degree in literature and intercultural Christian education from Wheaton College.