War and the American Difference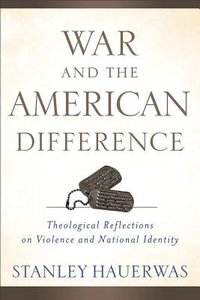 How are American identity and America's presence in the world shaped by war, and what does God have to do with it? Esteemed theologian Stanley Hauerwas helps readers reflect theologically on war, church, justice, and nonviolence in this compelling volume, exploring issues such as how America depends on war for its identity, how war affects the soul of a nation, the sacrifices that war entails, and why war is considered "necessary," especially in America. He also examines the views of nonviolence held by Martin Luther King Jr. and C. S. Lewis, how Jesus constitutes the justice of God, and the relationship between congregational ministry and Christian formation in America.

- Publisher
You May Also Be Interested In
About "War and the American Difference"
How are American identity and America's presence in the world shaped by war, and what does God have to do with it? Esteemed theologian Stanley Hauerwas helps readers reflect theologically on war, church, justice, and nonviolence in this compelling volume, exploring issues such as how America depends on war for its identity, how war affects the soul of a nation, the sacrifices that war entails, and why war is considered "necessary," especially in America. He also examines the views of nonviolence held by Martin Luther King Jr. and C. S. Lewis, how Jesus constitutes the justice of God, and the relationship between congregational ministry and Christian formation in America.
- Publisher


Meet the Author
Stanley Hauerwas
Stanley Hauerwas (Ph.D.,Yale University) is the Gilbert T. Rowe Professor of Theological Ethics at Duke University. He is the author of many books, including Performing the Faith, The Peaceable Kingdom; With the Grain of the Universe; A Better Hope; Christian Existence Today.
His book, A Community of Character: Toward a Constructive Christian Social Ethic, was selected as one of the 100 most important books on religion of the 20th century. Dr. Hauerwas recently authored Matthew (Brazos Theological Commentary on the Bible), and The State of the University: Academic Knowledges and the Knowledge of God, (Oxford: Blackwell Publishing, 2007).
Table Of Contents
Introduction
part 1: America And War
1. War And The American Difference
2. America's God
3. Why War Is A Moral Necessity For America
part 2: The Liturgy Of War
4. Reflections On The "appeal To Abolish War"
5. Sacrificing The Sacrifices Of War
6. C. S. Lewis And Violence
7. Martin Luther King Jr. And Christian Nonviolence
part 3: The Ecclesial Difference
8. Jesus, The Justice Of God
9. Pentecost: Learning The Languages Of Peace
10. A Worldly Church: Politics, Theology, And The Common Good
11. A Particular Place: The Future Of Parish Ministry
12. Beyond The Boundaries: The Church Is Mission
index