War Room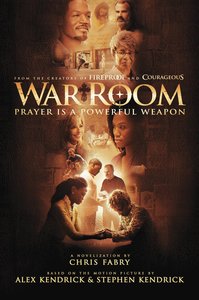 :Juggling motherhood and her job as a real-estate agent, Elizabeth Jordan wishes her husband could help more around the house. But Tony's rising career as a pharmaceutical salesman demands more and more of his time. With a nice home in the suburbs and a lovely young daughter, they appear to have it all?yet they can?t seem to spend time together without fighting.

Hoping for a new listing, Elizabeth visits the home of Clara Williams, an elderly widow, and is both amused and uncomfortable when Clara starts asking pointed questions about her marriage and faith. But it's Clara's secret prayer room, with its walls covered in requests and answers, that has Elizabeth most intrigued ... even if she's not ready to take Clara's suggestion that she create a prayer room of her own. As tensions at home escalate, though, Elizabeth begins to realize that her family is worth fighting for, and she can?t win this battle on her own. Stepping out in blind faith, putting her prayers for her family and their future in God's hands, might be her only chance at regaining the life she was meant for.

- Publisher
You May Also Be Interested In
About "War Room"
:Juggling motherhood and her job as a real-estate agent, Elizabeth Jordan wishes her husband could help more around the house. But Tony's rising career as a pharmaceutical salesman demands more and more of his time. With a nice home in the suburbs and a lovely young daughter, they appear to have it all?yet they can?t seem to spend time together without fighting.

Hoping for a new listing, Elizabeth visits the home of Clara Williams, an elderly widow, and is both amused and uncomfortable when Clara starts asking pointed questions about her marriage and faith. But it's Clara's secret prayer room, with its walls covered in requests and answers, that has Elizabeth most intrigued ... even if she's not ready to take Clara's suggestion that she create a prayer room of her own. As tensions at home escalate, though, Elizabeth begins to realize that her family is worth fighting for, and she can?t win this battle on her own. Stepping out in blind faith, putting her prayers for her family and their future in God's hands, might be her only chance at regaining the life she was meant for.
- Publisher


Meet the Author
Chris Fabry
Chris Fabry is a 1982 graduate of the W. Page Pitt School of Journalism at Marshall University. He is heard on Chris Fabry Live! each weekday on Moody Radio, the Love Worth Finding broadcast, and other radio programs. You may have also heard Chris cohosting programs for Focus on the Family radio. He and his wife, Andrea, live in Colorado and are the parents of nine children.
Chris recently released his first adult novel entitled Dogwood, which is set in his native state of West Virginia. He has published more than 60 other books, including many novels for children and young adults. He co-authored the Left Behind: The Kids series with Jerry B. Jenkins and Tim LaHaye, as well as the Red Rock Mysteries and the Wormling series with Jerry B. Jenkins. RPM is his latest series for kids and explores the exciting world of NASCAR. Visit his Web site at www.chrisfabry.com.
Customer Reviews For "War Room"
Write Your Own Review
Very inspiring
By Katie,

Jan 31 2017
I purchased this book to give to a friend who is facing a challenging time.  The story really focuses on the power of prayer and encourages one to step up their prayer life. 
My friend really enjoyed the gift and I would recommend this book. 
---
Walking in fullness by waging a battle
By Drew,

Jan 18 2017
Have you ever been moved by some epic adventure tale which narrates a hero's sacrifice? Or are you more moved by an individual's willingness to fight a battle, sacrificing their life and security for others? Either way- this novel was amazing and the film was moving too. The novel tells the story of how prayer- when intentional, disciplined, earnest and strategic- can have the power to change others; change circumstances but most importantly change you! I'm not usually into these narratives but loved this one when I was bored and away with my Mum on a summer's holiday. With nothing else to read, or view, I picked this up and noticed it was from Koorong. It shows how prayer as a starting point, end point, and middle can provide you with the rich relationship you might have once craved with God. It also shows how, when praying earnestly, things start to change! I've now bought this for my house cleaner and neighbour. Praying that this might lead them back to a rich, revolutionary and deep walk with God. When we pray, anything can happen!!
---
Power of Prayer
By Drew,

Jan 11 2017
Want a text that reminds you of the dual fold purpose if prayer? This is it! Prayer changes situations and it also changes us! Amidst conflict and danger, the power of God is at work- and the best place to be? At your knees, before God, interceding for the situations around us and connected to us. Read this book!
---
Brilliant
By Mel Lee,

Dec 31 2016
Very powerful movie. 
Life changing.
Inspirational. 
Couples experiencing difficulty definitely need to watch this one!
---
Power of Prayer
By Monica ,

Nov 05 2016
I saw this movie 6 times in the theatre taking friends and family because I found it had a fantastic message to promote, 
The joy and  power of prayer of the mature lady is a undeniable example of God intervening through His servants, the courage to stand up against evil shown in this movie and fight for your family and loved ones is definitely something we need to follow in the world today , there were so many powerful positive affirmations for trusting God , prayer, and fight the devil not your family, that even watching it so many times I was always deeply touched during parts, and would recommend it to everyone to see , we all need to see movies like this one
{{review.title}}
By {{review.author.name}},

{{review.reviewCreatedDate | date:'MMM dd yyyy'}}

{{reviewdescription}}
{{review.text}}
---