Watcher in the Woods (#02 in Dreamhouse Kings Series)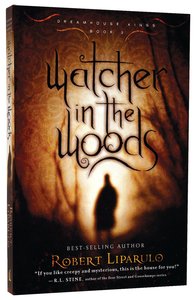 It's not just the house that's keeping secrets. Pretending everything's all right is harder than it sounds. But the Kings know that even if they told the truth about the bizarre things happening in their house, no one would believe them. They're hyper-focused on rescuing their lost family member before anyone finds out what's going on. But when a stranger shows up to take their house, their options start dwindling fast. Why would he be so interested in a run-down old place? And what secret is he hiding--just as he hides the scars that crisscross his body? The mystery gets stranger with each passing day. Will the Kings be able to find a way to harness the house's secrets and discover who is watching their every move before another gets snatched into an unknown world?



- Publisher
You May Also Be Interested In
About "Watcher in the Woods (#02 in Dreamhouse Kings Series)"
It's not just the house that's keeping secrets. Pretending everything's all right is harder than it sounds. But the Kings know that even if they told the truth about the bizarre things happening in their house, no one would believe them. They're hyper-focused on rescuing their lost family member before anyone finds out what's going on. But when a stranger shows up to take their house, their options start dwindling fast. Why would he be so interested in a run-down old place? And what secret is he hiding--just as he hides the scars that crisscross his body? The mystery gets stranger with each passing day. Will the Kings be able to find a way to harness the house's secrets and discover who is watching their every move before another gets snatched into an unknown world?


- Publisher


Meet the Author
Robert Liparulo
Robert Liparulo's debut novel, Comes a Horseman, is being made into a major motion picture by producer Mace Neufeld and his short story ?Kill Zone? is included in the anthology Thriller, edited by James Patterson. Robert lives in Colorado with his wife, Jodi, and their four children.
Other Titles In The "Dreamhouse Kings" Series View All