Water From a Deep Well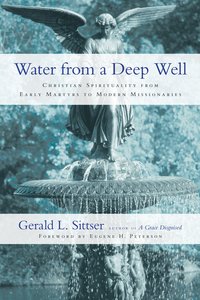 In Rome in A.D. 165, two men named Carpus and Papylus stood before the proconsul of Pergamum, charged with the crime of being Christians. Not even torture could make them deny Christ, so they were burned alive.Is my faithfulness as strong?In the fifth century, Melania the Younger and her husband, Pinian, distributed their enormous wealth to the poor and intentionally practiced the discipline of renunciation.Could living more simply deepen my trust in God?In the sixteen hundreds, Philipp Jakob Spener's love for the Word of God and his desire to help people apply the Bible to their life moved him to start "Colleges of Piety," or small groups.In what ways could commitment to community make me more like Christ?The history of the church has shaped what our faith and practice are like today. It's tempting to think that the way we do things now is best, but history also has much to teach us about what we've forgotten. In Water from a Deep Well, Gerald Sittser opens to us the rich history of spirituality, letting us gaze at the practices and stories of believers from the past who had the same thirst for God that we do today. As we see their deep faith through his vibrant narratives, we may discover that old ways can bring new life to our own spirituality.

- Publisher
You May Also Be Interested In
About "Water From a Deep Well"
In Rome in A.D. 165, two men named Carpus and Papylus stood before the proconsul of Pergamum, charged with the crime of being Christians. Not even torture could make them deny Christ, so they were burned alive.Is my faithfulness as strong?In the fifth century, Melania the Younger and her husband, Pinian, distributed their enormous wealth to the poor and intentionally practiced the discipline of renunciation.Could living more simply deepen my trust in God?In the sixteen hundreds, Philipp Jakob Spener's love for the Word of God and his desire to help people apply the Bible to their life moved him to start "Colleges of Piety," or small groups.In what ways could commitment to community make me more like Christ?The history of the church has shaped what our faith and practice are like today. It's tempting to think that the way we do things now is best, but history also has much to teach us about what we've forgotten. In Water from a Deep Well, Gerald Sittser opens to us the rich history of spirituality, letting us gaze at the practices and stories of believers from the past who had the same thirst for God that we do today. As we see their deep faith through his vibrant narratives, we may discover that old ways can bring new life to our own spirituality.
- Publisher


Meet the Authors
Gerald L Sittser
Gerald L. Sittser (Ph.D., University of Chicago) is professor of theology at Whitworth University in Spokane, Washington. He is the author of The Adventure, A Cautious Patriotism, A Grace Disguised, The Will of God as a Way of Life and When God Doesn't Answer Your Prayer.
Sittser has won numerous awards and honors including a Gold Medallion Award from the Evangelical Christian Publishers Association for his book When God Doesn't Answer Your Prayer. His two most recent books Water from a Deep Well which surveys the Spirituality from the early martyrs to modern missionaries, and Love One Another which examines and applies the 'one another' exhortations of the New Testament to believers so we will aspire to Becoming the Church Jesus Longs For.
Koorong - Editorial Review.
Eugene Peterson (Fwd)
Dr. Eugene H. Peterson is a pastor, scholar, author, and poet. He has written nearly thirty influential books including, Praying with the Psalms; Praying with Jesus; Reversed Thunder; Leap Over a Wall; Run with the Horses and Answering God , but he is best known for The Message: The Bible in Contemporary Language a contemporary paraphrase of the Bible.
Eugene Peterson was educated at Seattle Pacific University, New York Theological Seminary, and Johns Hopkins University, and in 1962, Peterson became founding pastor of Christ Our King Presbyterian Church in Bel Air, Maryland, where he served for 29 years before retiring. He is Professor Emeritus of Spiritual Theology at Regent College in Vancouver, British Columbia retiring in 2002.
His most recent publications have been the Spiritual Theology Series including Eat this Book; Christ Dances in a Thousand Places; The Word Made Flesh; The Jesus Way and the fifth volume Practising Resurrection.
Koorong -Editorial Review.
Table Of Contents
In Rome In A.d. 165, Two Men Named Carpus And Papylus Stood Before The Proconsul Of Pergamum, Charged With The Crime Of Being Christians. Not Even Torture Could Make Them Deny Christ, So They Were Burned Alive.is My Faithfulness As Strong?in The Fifth Century, Melania The Younger And Her Husband, Pinian, Distributed Their Enormous Wealth To The Poor And Intentionally Practiced The Discipline Of Renunciation.could Living More Simply Deepen My Trust In God?in The Sixteen Hundreds, Philipp Jakob Spener's Love For The Word Of God And His Desire To Help People Apply The Bible To Their Life Moved Him To Start "colleges Of Piety," Or Small Groups.in What Ways Could Commitment To Community Make Me More Like Christ?the History Of The Church Has Shaped What Our Faith And Practice Are Like Today. It's Tempting To Think That The Way We Do Things Now Is Best, But History Also Has Much To Teach Us About What We've Forgotten. In water From A Deep Well, Gerald Sittser Opens To Us The Rich History Of Spirituality, Letting Us Gaze At The Practices And Stories Of Believers From The Past Who Had The Same Thirst For God That We Do Today. As We See Their Deep Faith Through His Vibrant Narratives, We May Discover That Old Ways Can Bring New Life To Our Own Spirituality.

Acknowledgments

Introduction: There Is More!

1 Witness: The Spirituality Of The Early Christian Martyrs

2 Belonging: The Spirituality Of Early Christian Community

3 Struggle: The Spirituality Of The Desert Saints

4 Rhythm: The Spirituality Of Monasticism

5 Holy Heroes: The Spirituality Of Icons And Saints

6 Windows: The Spirituality Of The Sacraments

7 Union: The Spirituality Of The Mystics

8 Ordinariness: The Spirituality Of The Medieval Laity

9 Word: The Spirituality Of The Reformers

10 Conversion: The Spirituality Of Evangelicals

11 Risk: The Spirituality Of Pioneer Missionaries

Conclusion: where Do We Go From Here?

Discussion Questions

Annotated Reading List

Illustration Credits

Notes

Index