Waves of Mercy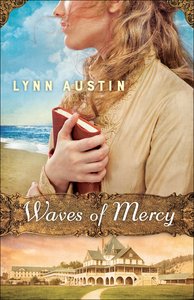 Austin Returns with a Multi-Generational Historical Novel

Geesje de Jonge crossed the ocean at age seventeen with her parents and a small group of immigrants from the Netherlands to settle in the Michigan wilderness. Fifty years later, in 1897, she's asked to write a memoir of her early experiences as the town celebrates its anniversary. Reluctant at first, she soon uncovers memories and emotions hidden all these years, including the story of her one true love.

At the nearby Hotel Ottawa Resort on the shore of Lake Michigan, twenty-three-year-old Anna Nicholson is trying to ease the pain of a broken engagement to a wealthy Chicago banker. But her time of introspection is disturbed after a violent storm aboard a steamship stirs up memories of a childhood nightmare. As more memories and dreams surface, Anna begins to question who she is and whether she wants to return to her wealthy life in Chicago. When she befriends a young seminary student who is working at the hotel for the summer, she finds herself asking him all the questions that have been troubling her.

Neither Geesje nor Anna, who are different in every possible way, can foresee the life-altering surprises awaiting them before the summer ends.

- Publisher
You May Also Be Interested In
About "Waves of Mercy"
Austin Returns with a Multi-Generational Historical Novel

Geesje de Jonge crossed the ocean at age seventeen with her parents and a small group of immigrants from the Netherlands to settle in the Michigan wilderness. Fifty years later, in 1897, she's asked to write a memoir of her early experiences as the town celebrates its anniversary. Reluctant at first, she soon uncovers memories and emotions hidden all these years, including the story of her one true love.

At the nearby Hotel Ottawa Resort on the shore of Lake Michigan, twenty-three-year-old Anna Nicholson is trying to ease the pain of a broken engagement to a wealthy Chicago banker. But her time of introspection is disturbed after a violent storm aboard a steamship stirs up memories of a childhood nightmare. As more memories and dreams surface, Anna begins to question who she is and whether she wants to return to her wealthy life in Chicago. When she befriends a young seminary student who is working at the hotel for the summer, she finds herself asking him all the questions that have been troubling her.

Neither Geesje nor Anna, who are different in every possible way, can foresee the life-altering surprises awaiting them before the summer ends.
- Publisher


Meet the Author
Lynn Austin
Lynn Austin has authored several works of fiction, including Candle in the Darkness and Hidden Places, both winners of Christy Awards. In addition to writing, Lynn is a popular speaker at conferences, retreats, and various church and school events. She and her husband have three children and make their home in Illinois.
Customer Reviews For "Waves of Mercy"
Write Your Own Review
An inspiring story of faith
By Katie Donovan,

Oct 31 2016
This book is full of wisdom gained through some of the most difficult experiences and decisions life can throw at you and is one of the most inspiring stories of faith I have ever read. In the 'present' (1897), Anna has been secretly attending Moody's Chicago Avenue church where she hears the minister speaking about Jesus as if He was his best friend; words that touch a deep, empty place in her soul. When her fianc learns that she has defied him by attending, he ends their engagement. Later, at Hotel Ottawa, Anna forms a tentative friendship with Derk, a young man studying to become a minister. She finds herself sharing her desire for the freedom to explore the differences between the formal religion she has grown up with, and the Christian faith that seems so . . . real. Geesje's memoir provides the second aspect to this story; a story so heart-wrenching at times that I had to put the book down and give myself time to process what I was feeling. Through the years Geesje repeatedly asks, "Why?  If it was God's will to come here, why are we still suffering?" And yet in the face of her anger, doubts, and questions, when faced with the most agonizing decision of her life, she goes against every inclination of her heart and obeys God; and discovers that God is faithful. Truly beautiful.
---
Great
By Iola,

Oct 07 2016
It's been a while since I've read a novel by Lynn Austin, and I'm ashamed to admit I'd forgotten what an outstanding author she is. As you can probably guess, I thought Waves of Mercy was excellent.

It's a dual timeline story. In 1897, Miss Anna Nicholson is staying at the Hotel Ottawa on the shores of Lake Michigan to recover from her broken engagement and consider her future. 

This is also the story of Geesje, one of the original immigrants to Holland, Michigan. She and her family left religious persecution in the Netherlands in the late 1840s to seek a new life in America, and that's the more historic part of the story--Geesje's memories of life in the Netherlands, the voyage to the New World, and establishing the settlement of Holland. But it's also her personal life story, and the story of her struggles with God.

What joins the two women is Derk, an employee at the Hotel Ottawa, and Geesje's next-door neighbour. He becomes Anna's confidant, and seeks counsel himself from Geesje, a woman full of godly wisdom.

Both stories are fascinating--Anna's, because the search for God is universal, and Geesje's because there is a lot to admire in the early settlers, and a lot we can learn from them.

Thanks to Bethany House and NetGalley for providing a free ebook for review.
{{review.title}}
By {{review.author.name}},

{{review.reviewCreatedDate | date:'MMM dd yyyy'}}

{{reviewdescription}}
{{review.text}}
---