Wayward Hearts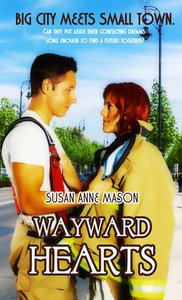 Hairstylist Maxi North is living her dream in Manhattan, poised to become junior partner in one of the city's classiest salons. Her father's death puts her plans on hold while she travels home to face her past. There, she is forced to confront unrequited feelings for her former best friend, Jason Hanley, as well as her deeply buried guilt over her younger brother's death. Fireman-in-training, Jason Hanley knows how badly Rainbow Falls needs its own fire station. As a new Christian, he pledges to serve the people of his community and to open a fire station as soon as possible. When his friend, Maxi North, and her mother almost perish in a fire, Jason becomes involved in helping them re-build their farmhouse. Soon he finds himself wondering if he and Maxi can ever put aside their differences to find a future together.

- Publisher
You May Also Be Interested In
About "Wayward Hearts"
Hairstylist Maxi North is living her dream in Manhattan, poised to become junior partner in one of the city's classiest salons. Her father's death puts her plans on hold while she travels home to face her past. There, she is forced to confront unrequited feelings for her former best friend, Jason Hanley, as well as her deeply buried guilt over her younger brother's death. Fireman-in-training, Jason Hanley knows how badly Rainbow Falls needs its own fire station. As a new Christian, he pledges to serve the people of his community and to open a fire station as soon as possible. When his friend, Maxi North, and her mother almost perish in a fire, Jason becomes involved in helping them re-build their farmhouse. Soon he finds himself wondering if he and Maxi can ever put aside their differences to find a future together.
- Publisher


Meet the Author
Susan Anne Mason
Susan lives with her husband, two children and two cats in a suburb outside of Toronto, Ontario, Canada. In addition to writing, she works part-time as a church secretary. She is a member of American Christian Fiction Writers (ACFW) and Romance Writers of America (RWA). When not writing, Susan enjoys scrapbooking and researching her family ancestry on-line.