We Are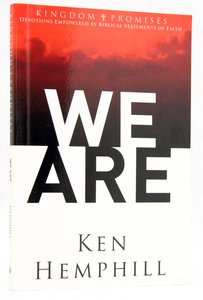 The Kingdom Promises series is based on short yet everlasting statements from Scripture; key verses that define who We Are in Christ, who God Is to us, and so forth. This unique grouping of devotional books will help believers grasp the undeserved rewards of God's grace and the power that flows from his very existence. Each conveniently pocket-sized book features more than forty devotions, all beginning with one special verse and followed by biblical wisdom mixed with author Ken Hemphill's easily relatable everyday experiences.

- Publisher One in a series of five books featuring devotionals empowered by biblical statements of faith that assure readers of God's power and faithfulness. Each book includes fifty two-page readings.

- Publisher
You May Also Be Interested In
About "We Are"
The Kingdom Promises series is based on short yet everlasting statements from Scripture; key verses that define who We Are in Christ, who God Is to us, and so forth. This unique grouping of devotional books will help believers grasp the undeserved rewards of God's grace and the power that flows from his very existence. Each conveniently pocket-sized book features more than forty devotions, all beginning with one special verse and followed by biblical wisdom mixed with author Ken Hemphill's easily relatable everyday experiences.
- Publisher

One in a series of five books featuring devotionals empowered by biblical statements of faith that assure readers of God's power and faithfulness. Each book includes fifty two-page readings.
- Publisher


Meet the Author
Ken Hemphill
Ken Hemphill is national strategist for Empowering Kingdom Growth, a joint initiative of the Southern Baptist Convention and Life Way Christian Resources. He holds a Ph.D. from Cambridge University and is the former president of Southwestern Baptist Theological Seminary. Hemphill's previous books include The Prayer of Jesus and Parenting with Kingdom Purpose.