We Need to Talk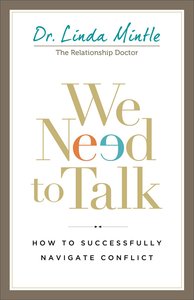 :How we deal with conflict will either grow a relationship or destroy it. Experienced therapist Dr. Linda Mintle expertly leads readers through successful conflict management, resulting in more secure and peaceful relationships. Practical and approachable, We Need to Talk offers real-world advice based on solid research for marriages, parenting, extended family, ex-spouses, blended families, and friendships. Readers will learn to reverse negative relationship patterns, let go of unresolved anger, negotiate expectations, set boundaries, and even stay in relationships with unsolvable conflicts. Self-inventories, questions, and descriptions of personality styles provide hands-on tools for self-recognition and better understanding. Throughout, Dr. Mintle directs readers to their ultimate source of relational transformation: a loving God.

- Publisher
You May Also Be Interested In
About "We Need to Talk"
:How we deal with conflict will either grow a relationship or destroy it. Experienced therapist Dr. Linda Mintle expertly leads readers through successful conflict management, resulting in more secure and peaceful relationships. Practical and approachable, We Need to Talk offers real-world advice based on solid research for marriages, parenting, extended family, ex-spouses, blended families, and friendships. Readers will learn to reverse negative relationship patterns, let go of unresolved anger, negotiate expectations, set boundaries, and even stay in relationships with unsolvable conflicts. Self-inventories, questions, and descriptions of personality styles provide hands-on tools for self-recognition and better understanding. Throughout, Dr. Mintle directs readers to their ultimate source of relational transformation: a loving God.
- Publisher


Meet the Author
Linda Mintle
DR. LINDA MINTLE is a nationally recognized writer, speaker and licensed clinical social worker who has been in general clinical practice for 20 years and specializes in marriage and family therapy and eating disorders. Dr. Mintle is also the resident expert for ABC Family Channel's Living the Life and a regular psychological contributor to several magazines. She has authored or co-authored three Integrity books: Overweight Kids, Lose It for Life (with Stephen Arterburn) and A Daughter's Journey Home. She and her husband live in Virginia Beach with their two children.