Welcome to Last Chance (#01 in A Place To Call Home Series)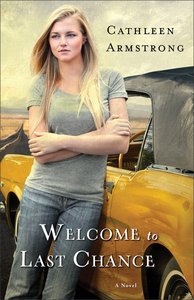 The red warning light on her car dashboard drove Lainie Davis to seek help in the tiny town of Last Chance, New Mexico. But as she encounters the people who make Last Chance their home, it's her heart that is flashing bright red warning lights. These people are entirely too nice, too accommodating, and too interested in her personal life for Lainie's comfort--especially since she's on the run and hoping to slip away unnoticed.

Yet in spite of herself, Lainie finds that she is increasingly drawn in to the dramas of small town life. An old church lady who always has room for a stranger. A handsome bartender with a secret life. A single mom running her diner and worrying over her teenage son. Could Lainie actually make a life in this little hick town? Or will the past catch up to her even here in the middle of nowhere?

Cathleen Armstrong pens a debut novel filled with complex, lovable characters making their way through life and relationships the best they can. Her evocative descriptions, observational humor, and talent at rendering romantic scenes will earn her many fans.

- Publisher
You May Also Be Interested In
About "Welcome to Last Chance (#01 in A Place To Call Home Series)"
The red warning light on her car dashboard drove Lainie Davis to seek help in the tiny town of Last Chance, New Mexico. But as she encounters the people who make Last Chance their home, it's her heart that is flashing bright red warning lights. These people are entirely too nice, too accommodating, and too interested in her personal life for Lainie's comfort--especially since she's on the run and hoping to slip away unnoticed.

Yet in spite of herself, Lainie finds that she is increasingly drawn in to the dramas of small town life. An old church lady who always has room for a stranger. A handsome bartender with a secret life. A single mom running her diner and worrying over her teenage son. Could Lainie actually make a life in this little hick town? Or will the past catch up to her even here in the middle of nowhere?

Cathleen Armstrong pens a debut novel filled with complex, lovable characters making their way through life and relationships the best they can. Her evocative descriptions, observational humor, and talent at rendering romantic scenes will earn her many fans.
- Publisher


Meet the Author
Cathleen Armstrong
Cathleen Armstrong lives in the San Francisco Bay Area with her husband, Ed, and their corgi. Though she has been in California for many years now, her roots remain deep in New Mexico where she grew up and where much of her family still lives. After she and Ed raised three children, she returned to college and earned a BA in English. "Welcome to Last Chance" won the 2009 American Christian Fiction Writers Genesis Award for Women's Fiction. A
Customer Reviews For "Welcome to Last Chance (#01 in A Place To Call Home Series)"
Write Your Own Review
small town warmth
By becinchina,

Oct 27 2016
as one who grew up in a small town, this story was a real heartwarmer
---
Great
By Trudy,

Jan 31 2016
Cathleen creates a novel that has you considering what it would be like to truly have nothing and to be on your last straw, terrified of your past finding you and not willing to trust anyone. She shows the struggles and ultimate gain from learning to trust others and ultimately trust God. 
---
Heartwarming
By Bri,

Feb 03 2015
'Welcome to Last Chance' was a good read, and I liked how it was the people of the town that kept her there and not the location. It was a more realistic read due to the interactions between characters not all bring smooth sailing, while being an enjoyable read. Hearing the history of Lainie makes your heart break and has you cheering all the more for her healing as you progress through the book. 
It shows the value of trust and friendships in life, and the healing power of God's love. 
One downside was the climax was a bit half hearted and easily resolved. But the story line, characters, and interactions between characters made it worthwhile
---
Agood debut novel
By Jessica R Wakefield,

Jun 05 2014
Debut author Cathleen Armstrong gives readers a nice, interesting tale of a girl on the run from a bad guy and the town that steals her heart. I liked this book, but I wanted to like it more. What I liked mostly was the setting, I'm a sucker for small towns and this one is a beauty filled with lots of quirky characters. What I didn't like though was the small town. I know, you must think I'm crazy right now! Whilst the town was good, I felt that the author spent too much time on the town and it's folks rather than really delving deeply into the life of Lainie and her bartender beau. 

So this is a mostly enjoyable novel and I'll most likely read the next book in the series, as this was good enough for me to try this author out again, but I thought it could have been a bit better.
{{review.title}}
By {{review.author.name}},

{{review.reviewCreatedDate | date:'MMM dd yyyy'}}

{{reviewdescription}}
{{review.text}}
---
Other Titles In The "A Place To Call Home Series" Series View All